Afridigest Week in Review: Remittance riches
+Andreessen Horowitz invests in Africa +How to quantify product-market fit +The realities of consumer internet in Africa +Early expansion for Africa-focused startups +Nkali Fund proposal & more
The Afridigest Week in Review is a must-read weekly recap for Africa-focused founders, executives, and investors, as well as interested observers.



Welcome back! I hope your week is off to a great start! Here's some quick news:





• Since Week 34's digest, I published '

Venture scale startups targeting Africa should start with a multi-country mindset' — and there's been a good amount of feedback so far! If you have any comments or perspectives to share here, please do reach out. One interesting counterpoint I've received is that startups built on the continent shouldn't target African markets at all — I agree in some ways, but it's a separate discussion altogether.
✨
• It's the last day to pre-order the books for August prices: http://strategyforentrepreneurs.com



If you're new, welcome 🙌 — you'll receive 2 weekly Afridigest emails: an original essay 

(on Saturdays at roughly 7pm-ish Lagos time) and the weekly digest (every Monday, generally around 12 noon-ish Lagos time)

. For past essays and digests, visit 

the archive

.





Subscribe here:

Week 35 2020
📰 Deal of the week
ANOTHER AFRICAN(-ISH) EXIT
Boston-based, Africa-focused remittance app Sendwave was acquired by WorldRemit for $500 million in a deal that should close in Q4, subject to regulatory approvals.
Founded in 2014 by Drew Durbin and Lincoln Quirk, Sendwave first focused on the Kenyan remittance corridor before expanding to Nigeria, Ghana, and Senegal. With the cash and stock deal, UK-based WorldRemit gains a pan-African presence as COVID accelerates the shift to digital banking.
💡 Why it's the deal of the week: It's not every week that you see a ½ billion-dollar transaction involving a company serving African markets.
⛏️ Go deeper:
According to the press release, "Sendwave will continue to operate independently and retain its mobile applications, brand, management, employees and key partners."

But "upon consummation of the transaction, Sendwave's founders will continue working on projects that bring access to financial services in Africa, on an independent basis." 🏃🏼

WorldRemit also has African DNA itself: While it's a UK company led by CEO Breon Corcoran, it was founded by London-educated Somalian Ismail Ahmed who now chairs the board.

Some interesting Twitter reactions:

Flywire's Munya Chiura suggests the rationale is for WorldRemit "to increase US-African payment corridors"

And Hover's Wiza Jalaski suggests Sendwave's UX expertise is a strategic opportunity for WorldRemit, and that there might be six main pillars of consumer fintech success on the continent:
---
🔦 Other deals
SOUTH AFRICA, NIGERIA, EGYPT
OTHER DEALS
---
⚔️ Strategy Reads of the Week
"HOW WOULD YOU FEEL IF YOU COULD NO LONGER USE PRODUCT X?"
Here's an NPS-like framework that entrepreneurs can use to quantify product-market fit and track it over time.
"It's clear that finding the proverbial product-market fit is critical; however, it is unclear what exactly finding it means…For entrepreneurs, the inability to quantify product-market fit is incredibly frustrating. Not only might it be a barrier to raising capital, but as the old adage says, 'If you can't measure it, you can't improve it' … Entrepreneurs and investors need a way to not only quantify product-market fit, but to track this metric over time and with different customer segments. Enter Sean Ellis…"
🥇 "Why Your Startup Needs a Product-Market Fit Metric" by Kaitlyn Doyle
-
CONSUMER INTERNET IN AFRICA: IT'S NOT EASY
Jason Njoku, founder of subscription-video-on-demand service IROKO, announces a downsizing of its Africa teams as its pivot away from Nigeria & Africa due primarily to "the COVID-19 fallout, rapidly devaluing currency, and [a] hostile regulatory environment." It's a sober must-read that offers a first-hand view into some of the on-ground realities & challenges of doing business in today's uncertain African markets.
(Recall IROKO's earlier pivot towards Africa as outlined in the Afridigest article 'How Iroko went from pioneer to powerhouse | Part 1 (2010-2016)' — perhaps it's time for Part 2: 2017-2020.)
"We still believe in Africa. It's a strange thing to realise that even after almost 9 years with IROKOtv, 5 exclusively focused in Africa, we still may be too early for Africa. That in itself says so much about the current Internet opportunity in Africa. Many models have attempted to crack the consumer economy in Africa. Classifieds didn't work. Lead generation didn't work. E-commerce didn't work. Free didn't work. If we had only the Africa market (like so many before us who failed) then this post would be RIP IROKOtv. Thankfully we have an international business to fall back upon."
🥇 "Resizing IROKO" by Jason Njoku (🔥 Highly recommended)
-
GEOGRAPHIC EXPANSION FOR SCALE & STABILITY
The potential for non-essential goods and services in any given market in Africa is comparatively small. Moreover, many markets are marked by a high degree of uncertainty. (See, for example, the current political situations in Ivory Coast and Mali.) For startups seeking venture scale, this therefore necessitates geographic expansion early on in their journey.
"Some markets are blessed with wealthy consumers and sizeable populations; others aren't as fortunate. Entrepreneurs in the former have the latitude to focus on growth in their home countries; however, in the latter, entrepreneurs seeking sizeable growth have to look outwards relatively early in their journeys.

African markets, generally speaking, belong in the second bucket…On the one hand, most African markets are relatively small, and on the other, many African markets are highly uncertain. Given these characteristics, entrepreneurs seeking rapid growth and venture scale in African markets should begin thinking about geographic diversification and market expansion at the onset."
🥉 "Venture scale startups targeting Africa should start with a multi-country mindset" by Emeka Ajene
---
🌏 Asia Read of the Week
A LOOK AT E-COMMERCE IN JAPAN
A deep-dive into Japan's Base, a freemium e-commerce platform (like Spotify) with a standalone payment platform (like Stripe) that targets individual creators (like Etsy).
"In what should likely evolve into a winner-takes-most market…BASE should be seeking today to aggressively grow their merchant surplus first (& as fast as possible) and their revenue second, in our view… the ability to willingly - and sustainably over a meaningful time period - under-price or to even drop pricing when playing in a large winner-takes-most or winner-takes-all market is the most prudent course of action with the long-term in mind."
💡 "BASE: Japan's "All-In-One" Shopify, Etsy & Stripe" by Will Schoebs & Japan Business Insights
---
📢 If you find this newsletter valuable, share it.
Afridigest is the industry newsletter for Africa's startup ecosystem. If you find it valuable, share it with founders, investors, executives, and others in your network who would benefit from receiving it.
---
💼 Job Opportunities of the Week
CO-FOUNDER
Founders Factory Africa is hiring a Johannesburg-based CTO/Technical Co-Founder for Project Neo, a full-stack AI platform targeting the financial services industry.
GENERAL MANAGEMENT / LEADERSHIP
Change.org (the portfolio company of Y Combinator, Greylock, Bill Gates & others) is hiring a Johannesburg-based Country Director for South Africa to launch and scale its first country office in Africa.
GROWTH
Tala, the digital lending startup, is hiring a Nairobi-based Growth Manager.
SALES & BUSINESS DEVELOPMENT
Pargo, the smart logistics platform, is hiring a Capetown-based Business Development Manager.
SALES & BUSINESS DEVELOPMENT
OKEx, the global cryptocurrency exchange, is hiring a Johannesburg-based Business Development Manager.
-
To submit a job opportunity to be featured here, email: hello@afridigest.com
---
🕵️‍♀️ In case you missed it
ESSAYS
NEWS & ANNOUNCEMENTS
INTERVIEWS
VIDEOS
PODCASTS
Yele Bademosi, Founder of Microtraction & Bundle Africa talked about his journey, the African startup & funding ecosystem, and blockchain on the Building the Future podcast.

Dare Okoudjou, Founder & CEO of MFS Africa, Luke Kyohere, Founder of Beyonic, Carina Rumberger, CEO of Beyonic and Rachel Balsham, Deputy CEO of MFS Africa, discussed MFS Africa's Week 27 acquisition of Beyonic on the Flip Africa podcast

Vivian Nwakah, Founder & CEO of Medsaf, discussed Medsaf and the Nigerian/African pharmaceutical market on the Invest Africa Insights podcast
---
🕵️‍♂️🐤 In case you missed it - Twitter edition
JUMP IN THE CONVERSATION ON TWITTER
Odun Odubanjo shares some lessons learned upon moving from the Nigerian tech ecosystem to the Canadian one in this thread:

Spencer Greenberg offers a long list of various problem archetypes in this thread that ends with an essay on problem-solvingtechniques:
---
🗣️ A final word
WHAT I'M THINKING ABOUT
Productivity & flow were big themes this past week.

I read this interview where Superhuman's Head of Growth, Gaurav Vohra, described his practice of only checking email twice a day in order to maximize flow. According to him, "the best way to be in flow is to minimize distractions, and create large blocks of time to do similar tasks all at once — so that you minimize context switching."
And soon after, the message was reinforced in author Benjamin Hardy's LinkedIn article where he argued that "you can live your entire life in 'flow'" if you have "one outcome that you're seeking at any given time."
So for September, I'll try to multitask less and be in flow more. Wish me luck. Or better yet, join me. 🧘‍♂️
---
LA FIN
Thanks for reading 🙌 If you have feedback or questions, or just want to say hi, leave a comment on this article, or message me on Twitter @eajene or on Whatsapp.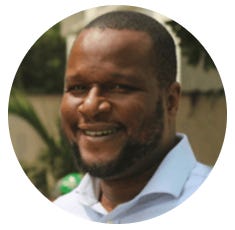 Oh, one more thing: how did you like today's digest?

And if you want to support this effort, feel free to place your pre-order of the upcoming titles at http://strategyforentrepreneurs.com