Africa Week in Review: Addressing the 'unaddressed'
+Africa-focused reports from McKinsey & Bain +Investors hit the podcast circuit +Egyptian Deals +MEST investees +Lying founders +The Chinese copycat mentality +Facebook, Google, & others are hiring
The Afridigest Week in Review is a must-read weekly recap for Africa-focused founders, executives, and investors, as well as interested observers.



Welcome back!
• Unfortunately, I wasn't able to publish an article last week, but I've started writing it — it should be on economies of scale vs. scope in African markets…an idea sparked by reader, Eric L. If you have any thoughts on the subject, I'm all ears 👂





• Let me know what you think about today's digest: 

👍 Like
 or 
👎 Dislike
 ?
If you're new, welcome 🙌 — you'll (generally) receive 2 weekly Afridigest emails: the weekly digest 
(every Monday afternoon Lagos time)
 and either an original essay or the new Thought Circle format 
(on Saturdays at roughly 7pm-ish Lagos time)
. For past essays and digests, visit 
the archive
.

Week 39 2020
📰 Deal of the week
'TURN LEFT WHERE THE GOATS USED TO GRAZE'
OkHi, a Kenya-based digital addressing startup raised ~$1.8 million from Angel Investment Network, the 'world's largest online angel investment platform.'
Founded in 2014, OkHi operates a "digital addressing network" whose mission is to to enable the half of the world without a physical address to be included in today's digital economy. Across many African markets, there are poor physical addressing systems and giving/following directions tends to be a highly inefficient process.
"I was trying to get directions here in Kenya and someone told me 'once you get into the village turn left where the goats used to graze', I was like 'how is that even going to work?' — Co-Founder & CEO Timbo Drayson
My mom's address is a set of text directions which is 'after the market you turn right at the security [outpost] and then you look for the orange gate…in case of an emergency, I can't tust an ambulance to get to her on time. — Co-Founder & Product Manager, Wes Chege
The startup targets specific verticals and has helped provide addressing solutions for ride-hailing startups such as Uber in Kenya, for various restaurants, retailers, & delivery providers, and has also provided address verification services for banks & insurance providers. Notably, the six-year-old startup put forth in its press release that it's now on a "clear trajectory" to Series A.  
💡 Why it's the deal of the week: One of the barriers to e-commerce penetration identified by the experts in 'Why B2C e-commerce hasn't yet scaled in African markets' was the lack of physical addresses, and OkHi is among the startups addressing the issue. Prior to OkHi, Co-Founder Timbo Drayson led the launch of Google Maps across emerging markets.
⛏️ Go deeper:
The funding will be used for its Nigeria expansion and the exploration of other markets

OkHi recently launched in Nigeria where it is working with fintech platform Interswitch to offer address verification solutions

"This raise is a vital stepping stone to unlock our growth into Nigeria as well as explore new markets across Africa, the Middle East and Asia." — Timbo Drayson, Co-Founder & CEO

See this 6 minute CNN video for a good introduction into what OkHi is doing and the problem it's solving
---
🔦 Other deals
EGYPT CONTINUES TO HEAT UP
Kashier, an Egyptian payment platform, raised a six-figure seed round

Founded in 2017, Kashier helps ecommerce/retail businesses to accept payments via credit/debit card, mobile money, and QR code

Roadrunner, an Egyptian delivery/logistics startup raised a six-figure seed round

Founded in 2019 by former Delivery Hero employees, RoadRunner helps restaurants and other businesses in Cairo, Tanta, and Mansoura deliver on demand (Forgot to include this last week 🤷)
OTHER DEALS
The Meltwater Entrepreneurial School of Technology (MEST) invested $100,000 each in seven startups founded by MEST graduates:

Boxconn, a Ghanaian delivery service

Eleka, a Kenyan customer onboarding platform

Heny, a Ghanaian food delivery startup

Joovlin, a Nigerian e-wallet startup

KPI Lens, a Ghanaian cloud computing platform

Shopa, a Ghanaian retail-tech startup

Tendo, a Ghanaian reselling startup
---
📚 Read of the Week
LIES OR 'PRE-TRUTHS'?
The author explores what he calls a 'taboo topics in Silicon Valley': lying or telling "pre-truths" in order to actualize specific visions of the future, with Nikola as a case study.
"Are founders allowed to lie?

…Before you submit your answer, take a minute to think about it. If you are only allowed to tell the literal, complete truth, and you're compelled to tell that truth at all times, it is very difficult to create something out of nothing. 

You probably don't call it "lying", but founders have to will an unlikely future into existence. To build confidence in everyone around you – investors, customers, employees, partners – sometimes you have to paint a picture of how unstoppable you are…or tell a few "pre-truths" about your progress.
🥇 "Are Founders Allowed to Lie?" by Alex Danco
---
🌏 Asia Read of the Week
COPYING: NECESSARY FOR INNOVATION?
Former VC Lillian Li explores copying in the Chinese ecosystem from a few different angles, and concludes we, particularly those of us in developing markets, should copy more.
In reviewing Chinese internet history, one feature that stood out was how bloody it was compared to the startup environment of the West. At the peak of the Groupon group-buying craze in 2010 - 2011, over 100 clones were running around China trying to win the market. … I think copying is a necessary but not sufficient condition for innovation. … I want to propose a new way of thinking about innovations in developing economies:

Copy ⇒ Localise ⇒ Combine = Innovation

… All the Zero to One talk leads to innovation being idolised but perhaps hinders the process to creation. To be innovative, maybe we should all copy more?
💡 "Battle Royale, Time Machine Management and Why We Should Copy More" by Lillian Li
---
📢 If you find this newsletter valuable, share it.
Afridigest is the industry newsletter for Africa's startup ecosystem. If you find it valuable, share it with founders, investors, executives, and others in your network who would benefit from receiving it.
---
🕵️‍♀️ In case you missed it
NEWS & ANNOUNCEMENTS
ESSAYS
PERSONNEL MOVES
INTERVIEWS
PODCASTS
OTHER LISTENS/WATCHS
REPORTS & RESOURCES
---
💼 Job Opportunities of the Week
COMMUNICATIONS
Ingressive Capital is hiring a Lagos-based Head of Communications / Branding.
GROWTH
Brave Venture Labs is hiring a Nairobi-based Growth Manager.
DATA SCIENCE
Lulalend is hiring a Capetown-based Head of Data Science.
PRODUCT MARKETING
Google is hiring a Lagos or Johannesburg-based Product Marketing Manager, Grow with Google.
PRODUCT
WeFarm is hiring a Nairobi-based UX Researcher.
RESEARCH
Stears is hiring a remote or Lagos-based Senior Consultant/Senior Associate.
SALES & MARKETING
Facebook is hiring a Johannesburg-based Commercial Director, sub-Saharan Africa.
SALES & MARKETING
Bolt is hiring a Head of Sales - Africa, Bolt for Business based in Lagos, Capetown, Johannesburg or Nairobi.
-
To submit a job opportunity to be featured here, email: hello@afridigest.com
---
🕵️‍♂️🐤 Tweets & Threads
Investor Maya Horgan Famodu shared this perspective on regulation & innovation in some African markets:
---
🗣️ A final word
WHAT I'M THINKING ABOUT
This is the last Digest in September and there are now less days 100 days until 2021. It's been a unique year, thanks largely to the pandemic, and on Thursday we'll enter the final quarter: Q4 2020. For startups negatively affected by COVID-19, it seems there was a serious downturn in Q2 with different degrees of rebounding in Q3. With curfews & lockdowns being eased or lifted across Africa, international borders re-opening, and a general return to some degree of normalcy, Q4 will be an important quarter for many. Let's hope for the best.
---
LA FIN
Thanks for reading 🙌

Let me know what you thought of today's digest:
👎 Dislike • 👍 Like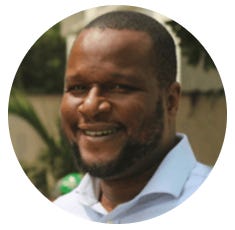 And if you have any feedback or questions or just want to say hi, leave a comment or message me on Twitter @eajene or on Whatsapp. or send an email to hello@afridigest.com