Why B2C e-commerce hasn't yet scaled in African markets
This week, select members of the Afridigest Thought Circle—an expert community of founders, investors, executives, and thinkers—provide insight, commentary, & analysis on e-commerce in Africa.
Afridigest provides ideas & analysis for startup founders, operators, and investors across Africa and beyond. 



If you're new, welcome 🙌 — you'll receive 2 weekly Afridigest emails: the weekly digest 

(every Monday at ~12 noon Lagos time) and an original essay or this new Thought Circle snapshot (on Saturdays at 7pm-ish Lagos time)

. For past essays and digests, visit 

the archive

.
This week, Thought Circle members were asked to reflect on the state of e-commerce across Africa and share thoughts on why it hasn't yet scaled. For example, Jumia, the continent's most notable e-commerce player, reported "annual active consumers" of just 6.8 million on a continent of ~1.3 billion people.
Questions or comments about the Thought Circle? Send a note to hello@afridigest.com. And if you're interested in joining this expert community, sign up here.
---
QUESTION OF THE WEEK
Why hasn't B2C e-commerce taken off at scale across Africa (yet)?
Often-mentioned factors tend to include internet penetration rates, smartphone penetration rates, logistical & delivery challenges, underlying payments infrastructure, market fragmentation & operational costs, over-reliance on cash, poverty, and trust. Which of these, if any, or what else are the primary factors in your view? What would it take for e-commerce to take off at scale? During what time frame do you think e-commerce will blossom across Africa, if ever? Or do you find this question's assumption mistaken and take the view that e-commerce has indeed taken off across Africa already - perhaps in another form, for example via Instagram and Whatsapp?
---
Firas Ahmad
Group CEO & Co-Founder, AzamPay
AzamPay develops payment management solutions for companies operating in East Africa. It's associated with the Azam Group, one of the leading industrial conglomerates in East Africa. The Azam Brand was ranked as the 5th Most Admired African Brand by African Business Magazine in May 2020.
For e-commerce to take off at scale in Africa the following four key issues must be addressed:
Smartphone penetration has not reached critical mass among end consumers for widespread e-commerce. Those that do have smartphones may not even use them as smartphones, focusing primarily on Whatsapp as a communication tool or for the phone itself as a status symbol. Smartphone penetration is not enough, in addition, smartphone fluency is required — meaning a critical mass of consumers capable of downloading and placing an order on a smartphone without any technical support or hand-holding.

Total Addressable Market – The number of middle to upper-class consumers with the financial resources to purchase online remains limited and highly fragmented across major cities. E-commerce operators face an uphill climb with respect to economies of scale required to manage logistics, inventory, and produce profits given relatively smaller, localized customer bases. This can be both a challenge and an opportunity. Ultimately, as African economies continue to grow, we will reach a tipping point where the addressable market achieves the required scale and operators start to see value in recovering costs associated with servicing customers. In the immediate to medium term, e-commerce operators will either sustain losses or have to be creative about how they address the customer base while keeping transaction costs low.

Logistics and Last Mile Delivery – Reaching the end consumer with products is a complicated task. If you look at e-commerce providers who achieved scale in developed markets, they did so on the backs of existing third-party logistics carriers. For example, Amazon, for the first 20 years of operation, shipped all its products through the US Post Office, UPS, or FedEx — all highly mature, cost-effective, and reliable options. Furthermore, the range of options allowed Amazon to negotiate lower rates across all three providers, passing savings on to consumers while keeping costs low. For Amazon, the problem of getting the product to the consumer was not something they had to solve internally to reach scale. Outsourcing logistics to proven third party providers with adequate service level agreements and guaranteed delivery confirmations means Amazon could focus on the business of selling and distributing without concern for last-mile delivery. This is not the case for African operators who must take the entire logistics value chain in-house or risk quality of service issues totally out of their control. The lack of qualified and reliable third-party logistics providers is a major impediment to scaling digital commerce in Africa.

Trust – Without trust, there is no e-commerce. If the customer doubts whether the product they ordered is the one they will receive at the price they agreed to, no transactions will take place. Service level requirements, delivery confirmations, return policies, transparent pricing, escrow payment mechanisms, quality products, and other factors all contribute to whether or not consumers will be open to using e-commerce to purchase goods and services through their phones. In particular, payment platforms must go beyond payment processing and look into models of trust facilitation for digital commerce. In mature economies credit cards managed this trust between buyer and seller, however as all transactions on mobile money are pre-paid, this functionality is not native to mobile money. A systematic trust mechanism built into payment networks is necessary for e-commerce to develop.
While there are significant challenges to e-commerce in Africa, the opportunity is tremendous. By aggregating demand across larger populations, e-commerce holds the promise of delivering products and services that otherwise would not reach African consumers for many years. While e-commerce started in the US and Europe as primarily a convenience tool, in Africa it can begin as a primary shopping experience especially for higher-value products that are not widely available.
---

Nivi Sharma
COO, BRCK & Co-Founder, eLimu
BRCK operates the biggest public WiFi network in sub-Saharan Africa and is the on-ramp for frontier market internet users. After the 2019 acquisition of Surf, BRCK's network includes over 2,000 public hotspots across Kenya, serving over 500,000 users a month. (And eLimu is East Africa's leading digital educational content provider.)
Digital access continues to be a big barrier for e-commerce — access in terms of:
smartphone ownership

access to a 2G/3G/4G/WiFi signal

affordability of connectivity, and

digital literacy about how to vet and navigate the e-commerce space.
Logistical/delivery challenges are also important. In Kenya, a big limiting factor to B2C e-commerce was the lack of an effective postal system combined with the lack of physical addresses. This was overcome by the innovations around "boda boda deliveries" — from Sendy to SafeBoda, sellers are finding ways of getting a guy on a motorbike to deliver anything, anywhere.
Kenya is probably best off in Africa because of the ubiquitous nature of mobile money here. I'm assuming that the underlying payment infrastructure is a huge barrier elsewhere.
I also believe there's more e-commerce going on in the grey market than research shows.
---

Obi Ozor
Co-Founder & CEO, Kobo360
Kobo360 is an end-to-end digital logistics & supply-chain platform that connects cargo owners to truck owners and drivers. In addition to core logistics services, Kobo also provides financing, insurance, and various other ancillary services. Kobo360 clients include Unilever, Olam, Lafarge, DHL, Maersk, and Dangote, and in 2019 the company raised a $30 Series A (debt & equity) round led by Goldman Sachs.
Poverty and trust are the 80/20 principle hindrances to the takeoff of e-commerce in Africa. We are poor and mainly buy things that are critical for survival. 75% of Africans live on a daily hustle and the other 25% don't trust the e-commerce platforms as they don't or can't yet meet customer service expectations like robust return policies, faster delivery, and discounts.
I believe e-commerce in Africa should be localised to focus on grocery, electronics, healthcare, and strong financial services solutions that will offer financing to support buyers on the platform just as you saw with Ant/Alibaba. One challenge here is that the e-commerce players will need to build out this financial services offering with their own funds in the medium term as banks just don't have the incentive to take on such exposure at this time.
The question is then: where are the investors that are looking at a 10-year horizon in Africa? Few today. I think e-commerce may need 10 years before it's the right time, especially when the Amazons and Alibabas can come into the market with patient capital and the capacity to buy in bulk, thereby offering prices that are the same or cheaper than the open market. They'll also have the resources to set up the necessary fulfillment and supply chain infrastructure and can also afford to pay for quality outsourced services. Of course, companies like Kobo will be happy and well-positioned to help.
---
JOIN THE AFRIDIGEST THOUGHT CIRCLE
The Afridigest Thought Circle amplifies expert voices, particularly those in Africa's startup ecosystem. Sound like you? Sign up today:
---

Ochije Nnani
Co-Founder & Country Manager, Fazsion; previously VP Commercial, Konga & Category Manager, Jumia
Fazsion is a cross-border B2B/B2C e-commerce platform focused on fashion. A subsidiary of Denmark's Fazsion ApS, Fazsion Nigeria connects retailers with European high street brands and also retails directly to consumers.
Having been a part of the e-commerce journey in Nigeria since inception, I'd say that the reason B2C e-commerce growth/scale in Nigeria, in particular, has been stunted is simply due to a lack of disposable income/poverty. Of course, this isn't to in any way ignore the other issues that have bedeviled the sector such as payments, trust, lack of effective home address systems, amongst others.
As an example, in 2012, as a fashion category manager at the recently merged entities of Sabunta and Kasuwa that formed Jumia, monthly revenues of 100 million NGN with month-over-month growth rates of 50% and steady acquisition of active customers were the norm until I left for Konga in 2013. This e-commerce growth derived ultimately, I believe, from the boom in the crude oil prices at the time which resulted in GDP growth of 6-7% and a stable sub-200 NGN forex rate that resulted in a buoyant middle class and subsequently more money in the pocket to spend.
At Konga, where I was responsible for the development of private label brands such as Deo Milano, Gab Moren, etc., we noticed the same trend initially. However, towards the tail end of the Jonathan administration, the growth rate slowed as the NGN-USD rate spiked to about 500 NGN per dollar (later normalised at 360 NGN). At this point, the disposable income of middle-income earners decreased and this impacted online shopping habits. The average buying price points declined significantly and made it difficult for e-commerce operators to make sense of their unit economics. (This was also exacerbated by the price wars between Jumia and Konga.)
So, in conclusion, I believe that growth in consumer disposable income across African markets would lead to more online purchases, as well as growth in monthly GMV and average price points. Such a state of affairs would also lead to investor inflow into the sector once again, which would help the development of innovative solutions to the other challenges (payments, logistics, home addresses, etc). Until then, platforms will be niche, but may still be able to gain ground if they are able to target customers at low cost and keep the overall cost of operation low.
---

Abasiama Idaresit
Founder & CEO, Wild Fusion Group & Co-Founder/Director, Greentree Investment Company
Wild Fusion is one of Africa's leading digital marketing agencies and has offices in Nigeria, Ghana, and Kenya. Greentree is an early-stage investment company whose portfolio includes Paystack, Precurio and Big Cabal Media.
E-commerce in Africa is growing and evolving, however, it's taking place in different forms and channels; a significant amount of transactions are taking place 'informally' on digital channels such as Instagram, Whatsapp, Facebook, Websites, SMS, Voice calls, etc.
The main e-commerce players will have to contend with these fragmented channels/methods of electronic commerce alongside the traditional open market while dealing with infrastructural headwinds. It'll eventually take off at scale but only with time and with stakeholders investing in aggregating and formalising these alternative e-commerce channels.
---

Steven Grin
Managing Partner, Lateral Capital
Lateral Capital is a venture fund investing in and advising early-stage opportunities in Sub-Saharan Africa; its portfolio includes Carry1st, LipaLater, Medsaf, and Koko Networks.
You touched on some of the major reasons why e-commerce is not thriving in Africa in the question prompt. The long and so-heard-of list includes fragmented markets, last-mile logistics, "mistrust", cash on delivery, average order basket size, etc.
However, I believe e-commerce is just in its first iteration and I, therefore, hold the view that the question's assumptions are mistaken. E-commerce is inevitable but its characteristics in Africa will look quite different than that of the US or Asia.
We at Lateral Capital are particularly interested to see what role social networks (trust networks) play in accelerating e-commerce penetration on the continent. Pinduoduo, for example, offers a unique model of gamification and social networking to scale an e-commerce platform in China.
---

Landry Djimpe
Managing Partner, Innogence Consulting
Innogence Consulting is an Africa-focused research firm specializing in market research, business intelligence, and innovation. The firm has offices in Paris and Abidjan.
I think we first need to define what exactly e-commerce is, especially in the African context. A lot of sales are happening online but they might be end-to-end. Many people initiate the purchase process online and close the transaction offline (collection and payment).
If we look solely at a traditional e-commerce model (a fully digital customer journey), I think we have a multi-faceted cause for the sector's stagnation, but I wouldn't go into the "infrastructure challenges" (payment, addressing, etc) often highlighted by most. I think there are at least two other pain points that are at least as important:
Africans have very limited disposable income and the continent has a very small real middle class, despite those who would refer to $2/day earners as middle class. This results in a very small addressable market.

Most of the people in the middle-class today aren't digital natives. They are used to traveling to the store/shop, holding/feeling/trying the product before buying. So a fully digital journey without interacting with the product prior payment isn't an established habit among them. This might change when the continent's digital natives have the necessary income to buy online.
---

Sola Lawal, PhD
Product Operations Manager, Nuro; previously Operations Manager, Uber Houston & Uber Nigeria
Nuro is an artificial intelligence and robotics company that develops autonomous delivery vehicles for local commerce.
My answer for this is two-fold.
The first reason is that penetration, which covers all the aspects you mentioned (internet penetration and costs, market fragmentation, over-reliance on cost, etc.) makes for small, segmented markets that are tough to assess and penetrate deeply in a cost-effective way. There is no New York City, Bay Area, or even Mexico City-sized city market anywhere on the continent. The multiplication of sub-1 numbers always leads to smaller sub-one numbers. So, if only 30% of customers have a smartphone and only 10% of those people have leisurely access to the Internet, then you, my friend, are looking at 3% of the market.

The second part of the lack of e-commerce penetration is how it is defined. WhatsApp, Twitter, and Facebook (including Instagram) sales allow for the more accessible informal market to flourish. This is where many items in Africa are bought and sold and all of the logistical issues faced across Africa means that hyperlocal (next door local) players can generally provide a better holistic (support, relationship, etc.) experience than a large e-commerce player, which means the typical advantages that e-commerce players have in other markets is less advantageous.
E-commerce via large players will eventually take off as competitive advantages are built and cemented through infrastructure plays (cheaper Internet, cheaper smartphones, startups like Sendy that help make delivery cheaper) and the experience becomes as tailored as the informal economy.
This will take many years (maybe a decade) and require many things to fall in place. I would prefer to bet on companies that enable the local businesses selling via WhatsApp and Instagram to reduce costs or improve their experience in the short-term as they still have a significant advantage today.
---
Thanks for reading! And a special thanks to Nivi, Abas, Firas, Landry, Ochije, Obi, Sola, and Steven! 🙌
Please tell me what you thought of this — it's the first edition, so I'd really appreciate your feedback here and it'll only take a minute: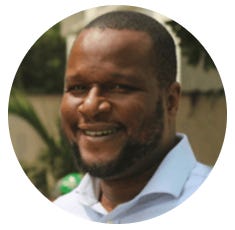 And as usual, you can also contact me on Twitter @eajene, or on Whatsapp.