Afridigest Week in Review: Africa's payments sector proves popular
+A unicorn regains its wings +Lessons from Southeast Asia and Bangladesh +Inflection Points, Impatience, and Platform Business Models +More
The Afridigest Week in Review is a must-read weekly recap for Africa-focused founders, executives, and investors, as well as interested observers.



Welcome back! Last week was a slow week relative to deal news, but here's some quick news/comments:





1. Since Week 30's digest, I published '

A potent way to compete in Africa's fragmented markets is by deploying platforms
.' Among the feedback here was
"Very succinct…very important themes and really good examples to illustrate your points"
and
"Great opening, but feels like it fizzled in the second half" —
I read and learn from all feedback so please keep them coming!
2. Thanks to those who've expressed interest in the Thought Circles concept. I'll start reaching out this week — for others, please

sign-up here

.





If you're new, welcome 🙌 — you'll receive 2 weekly Afridigest emails: an original essay 

(on Saturdays at 7pm-ish Lagos time) and the weekly digest (every Monday at ~12 noon Lagos time)

. For past essays and digests, visit 

the archive

. And subscribe below:

Week 31 2020
📰 Deal of the week
PAYMENTS PROVES POPULAR
DPO Group, a leading African payments service provider, is to be acquired for $288 million by Dubai headquartered, London Stock Exchange-listed payments processor, Network International Holdings plc.
💡 Why it's the deal of the week: Co-Founder & CEO of DPO Group, Eran Feinstein explains best — "This deal is a landmark deal for the African payments space. It will definitely increase African merchants' capacity to do business… both online and offline and not only across the continent, but globally … First, it's definitely one of the largest acquisitions of an African payments service provider to date as far as we know in terms of the deal size. It's definitely an exciting moment for the African fintech industry."
The deal follows the Week 27 acquisition of Beyonic by MFS Africa, and may signal that more integration and consolidation in African payments and fintech is on the medium-term horizon.
⛏️ Go deeper:
Understand DPO Group's acquisition history:

Understand the deal dynamics:

The transaction is expected to officially close in Q4

The purchase price was a healthy 18.5x FY2019 revenue

DPO's Co-Founders will rollover $13 million of their DPO shares into Network International shares with a two-year holding period

Read the 2019 overview provided by DPO Group Co-Founder and Chairman, Offer Gat:

I co-founded DPO Group in 2006 along with current DPO CEO, Eran Feinstein, in response to a gap that we identified in the African payments market. At that time, online payments were being widely used elsewhere in the world and e-commerce was booming, but in many parts of Africa paying online wasn't an option.

While East Africa is known today as a leader in mobile money, there wasn't much broad knowledge then around online payments and there was a sense of mistrust about paying an African company through an online platform. However, the need was there, especially amongst small businesses. Eran was approached by a Kenyan airline who needed the technology to be able to process bookings online from their overseas visitors, and when we found that local banks weren't able to offer this service, we decided to develop the technology ourselves.

Now, 13 years on, we operate in 18 countries across Africa enabling 100,000 businesses to make and receive secure payments, and to grow their businesses through e-commerce.
---
🔦 Spotlight
A UNICORN REGAINS ITS WINGS
The COVID-19 pandemic has generally proved a boon for the e-commerce sector. Amazon, for example, reported on July 30th "an extraordinary earnings beat … roughly doubling its earnings per share year over year, when analysts had expected it to drop by 75%."
This surprising result caused a general sense of euphoria among analysts and laypersons alike, and it seems that this has carried over to the (so-called) 'Amazon of Africa.'
Jumia's stock price is up 34% since its July 30th open, and with a current market cap of over $1.22B, Jumia is again a unicorn. 🦄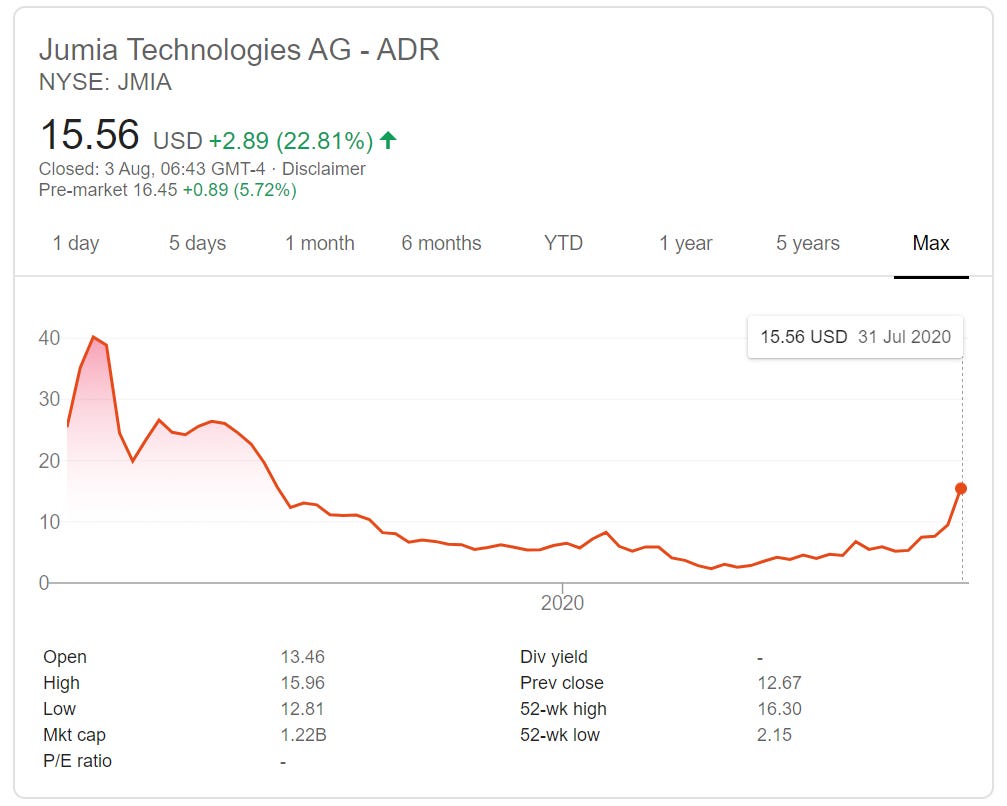 Jumia's market cap is still down from its $3B+ near-IPO levels however, and it reports Q2 earnings on August 12th. It'll be interesting to watch whether, like Amazon, the pandemic has had a strong positive impact on its business results, and if FAANG should be renamed FAJANG as some commentators suggest 😉
---
🌏 Asia Read of the Week
ON SCALING IN UNDERSERVED MARKETS
An overview of Southeast Asia's Sea Limited, "the $50+ billion Internet company"
"To recap, this is a gaming company that launched one of the number one games on the planet, and also built an e-commerce platform… and a payments/wallet platform… And all three of these efforts gained huge traction simultaneously, despite requiring very very different types of talent, skillsets, and resources.

American investors and product people tend to flinch at diversification that appears orthogonal in this way. But when you look at Sea's chosen businesses in the context of 'How do we best engage the high ARPU internet user in SE Asia?', these three areas make a lot of sense. Sea wants to own the wallet and all of the commerce that users engage with."
💡 "Thoughts on Sea Limited" by Julie Young
-
LESSONS ON F-COMMERCE
An overview of online shopping in Bangladesh or, as the author puts it, the growing cult of Facebook commerce.
"In the absence of giant online marketplaces like Amazon, thousands of bespoke Facebook pages and groups have been created to meet customer demand for ornaments, apparel, cosmetics, mobile accessories, and, of course, birds. The phenomenon has grown so much over the years that the number of stores on Facebook now eclipse the number of sellers on local e-commerce websites…No one knows exactly how many of these businesses exist, but the most recent estimates suggest that Bangladesh has over 300,000."
💡 "Want to buy a parrot? Please login via Facebook" by Nilesh Christopher
---
⚔️ Strategy Read of the Week
ON UNDERSTANDING HOW AND WHEN THINGS CHANGE
In a must-read post, Michael Dempsey, a partner at seed-stage venture fund Compound, explores inflection points and their significance.
"Whether you're an investor, researcher, startup founder, or scaled operator, by understanding inflection points, you're able to best position yourself to be ahead of where the futures you believe in are going. Decoding inflection points past, present, and future all have varying value … Infrastructure level inflection points create categories, distribution level inflection points grow categories, and technical inflection points do both … The most valuable companies capitalize on multiple inflection points."
🥇 "On Inflection Points" by Michael Dempsey
-
IMPATIENCE IS A VIRTUE
Ben Kuhn, CTO at Africa-focused fintech Wave, synthesizes various ideas about moving fast from disparate domains and highlights the advantages of speed.
"The faster you process information, the faster you can incorporate the result into what you do next … Moving quickly is an advantage that compounds. Being twice as fast doesn't just double your output; it doubles the growth rate of your output. Over time, that makes an enormous difference."
🥈 "Be Impatient" by Ben Kuhn
-
ON INTEGRATING MARKETS WITH PLATFORM BUSINESS MODELS
Emeka Ajene 😉 writes about the opportunities to use platform/marketplace business models to overcome Africa's high levels of fragmentation, highlighting Flutterwave as a case study.
"By reducing market fragmentation in Africa's payment landscape and the attendant transaction costs, and by providing infrastructure and mechanisms that encourage merchants and PSPs to interact with payment gateways, Flutterwave has been able to build undeniable momentum, displaying strong potential to create a payments market of great scale and efficiency in the long run."
🥉 "A potent way to compete in Africa's fragmented markets is by deploying platforms" by Emeka Ajene
---
Support this newsletter by sharing it with your networks.
Afridigest is the industry newsletter for Africa's startup ecosystem. Share it with founders, investors, executives, media personnel, and others who would benefit from receiving it. Thanks for your support. 🙏
---
🎙️ Podcasts of the Week
SOME HEAVY HITTERS THIS WEEK - WELL WORTH THE LISTENS
Chijioke Dozie, Co-Founder & CEO of Carbon, a Nigerian fintech startup, talked about Africa's fintech sector on the Invest Africa Insights podcast 

Monica Musonda, Founder & CEO, Java Foods, a Zambian food processing company, talked about creating agribusiness brands and scaling businesses on the African Business Stories podcast.
---
💼 Job Opportunities of the Week
MARKETING
Tencent Africa, parent company of WeChat, JOOX, and PUBG Mobile, is hiring a Johannesburg-based Head of Digital.
USER EXPERIENCE
Kwara, a B2B fintech startup, is hiring a Nairobi-based UX Designer.
FRONT-END
Voyance, a machine learning & data science startup, is hiring a Lagos-based ReactJS Developer for a contract opportunity.
FRONT-END
Eden Life, a home concierge startup, is hiring a Lagos-based Frontend engineer.
BACK-END
Buy Coins, a cryptocurrency exchange, is hiring a Lagos-based Sr. Backend developer.
-
To submit a job opportunity to be featured here, email: afridigest@substack.com
---
Visual of the week
CASH IS STILL KING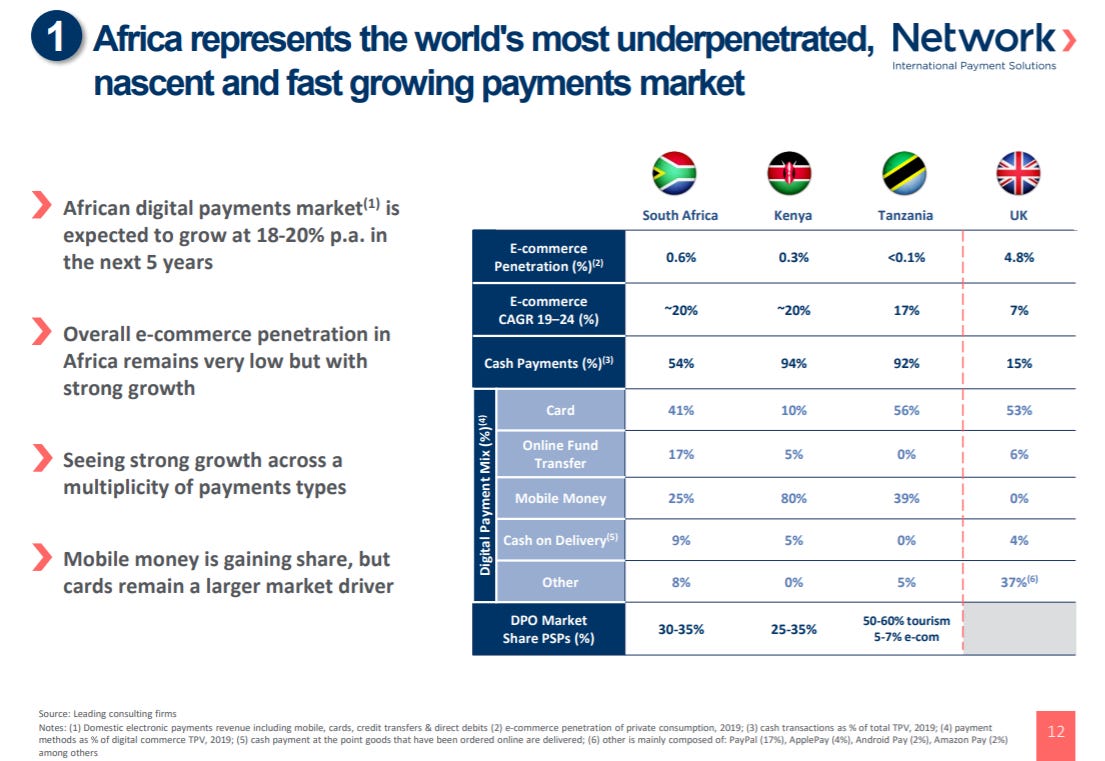 Cash payments are over 90% of total payments in Kenya and Tanzania (whereas South Africa figures are quite different). This is Slide 12 of Network's International deck on the DPO Group acquisition.  Full deck here.
---
🕵️‍♀️ In case you missed it
ESSAYS
NEWS & ANNOUNCEMENTS
REPORTS & BOOKS
VIDEOS
An interesting conversation between Victor Asemota and Stevon Cook — How to make millions investing in Africa: The Victor Asemota story
---
🕵️‍♂️🐤 In case you missed it - Twitter edition
JUMP IN THE CONVERSATION ON TWITTER
Andrew Mori sheds light on developer pay in Nigeria (at his company) in this thread:

Scott Hanford summarizes the process of creating a go-to-market strategy in this thread:

I turned my previous articles on the four Ansoff growth strategies into a Twitter thread:

Mario Gabriele offers the ballad of a young Jeff Bezos in this thread:
Dan Rose shares 10 lessons learned from working with Jeff Bezos in this thread:
---
🗣️ A final word
WHAT I'M THINKING ABOUT
What are your favorite business frameworks? It's top of mind for me as I've started outlining The Entrepreneur's Strategy Handbook and The 10 Commandments of Strategy. Exciting times. 😊 Pre-order your copies by clicking below — thanks for your support!
---
LA FIN
Thanks for reading. Feel free to contact me at afridigest@substack.com, on Twitter @eajene, or on Whatsapp with any suggestions, ideas, or just to say hi 🙌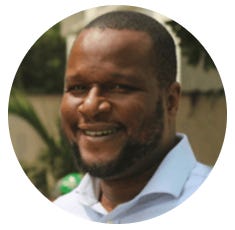 Oh, one more thing: how did you like today's digest?