Afridigest Week in Review: After rain comes sunshine 🌞
+MTN's mobile money menace +Social media in China +Good retention +Mental models +Foreign investors in local tech +Steve Jobs' lost interview
The Afridigest Week in Review is a must-read weekly business & innovation recap for founders, operators, and investors in African markets, as well as interested observers.



Welcome back! Since Week 23's digest, I published 

this piece

 exploring Nigerian video-on-demand company

Iroko

's evolution from 2010-2016; it adds some details to a piece previously published in 2017 — sorry if you've read the original.





If you're new, welcome 🙌 — you'll receive 2 weekly Afridigest emails: this weekly digest 

(every Monday at 11:30am Lagos time) and an original essay (usually on Saturday or Friday).
If you like this newsletter, do me a favor and subscribe / share it with your networks. Thanks! 🏆
---
Week 24 2020
📰 Deal of the week
South Africa-based Sun Exchange raised $3M from the Africa Renewable Power Fund of the UK's ARCH Emerging Markets Partners. Notably, ARCH is an investment vehicle partly owned by billionaire Patrice Motsepe's African Rainbow Capital. 
The startup, founded by Abe Cambridge in 2015, offers a crowdfunding platform that enables anyone to invest in solar cell projects that generate power in South Africa; it uses cryptocurrency to disburse returns to investors. Sun Exchange will use the funds to expand into new markets across sub-Saharan Africa.
🔆 Sunshine at last for Sun Exchange: The company had experienced challenges raising alternative funds over the last 18 months.
In December 2019, it was only able to raise ~60% of its expressed crowdfunding target. Then, due to approval & filing issues and the fallout from COVID-19, all those investors were ultimately refunded.

Prior to that in January 2019, the company failed to meet targets in an initial coin offering. But after rain comes sunshine 🌞

The World Bank estimates that the potential market for off-grid solar products across sub-Saharan Africa is ~600 million people so it's no surprise that the sector continues to attract interest from entrepreneurs and investors. Other players in Africa's solar energy space include Zola Electric, M-Kopa, Rensource, Fenix, Lumos, BBOXX, and more.
🤝 Other deals
Merge Tech, a South-African "Tinder for businesses," raised an undisclosed amount (~$100K) from Nigeria's Platform Capital.

Shezlong, an Egyptian online mental health platform, raised an undisclosed amount from healthcare-focused Asia Africa Investment Consulting (AAIC) and Egyptian angel investors, Mohamed El Khamissy (chairman of MK Capital) and Khaled Ismail (chairman of HIMangel).

LifeCheq, a South African digital financial advisor, raised an undisclosed amount from Futuregrowth Asset Management through its Futuregrowth Development Equity Fund (DEF).

LifeCheq was founded in 2015 by Abu Malike Addae and Shen Tian. Futuregrowth, via DEF, was notably the first institutional investor in South Africa's Yoco, the fast-growing POS payments provider.

✂💪
MTN, market power, & mobile money
Two weeks ago, I published this essay on Africa's most popular apps in which one of the key takeaways was that:
"MTN is dominant in Ghana. Two of Ghana's top 15 apps are from MTN (MyMTN and Ayoba) while no other country has two telco apps among the twenty most popular."
Last week, the Ghanaian government took action "to reduce MTN's dominance." It announced that the telco regulator would institute policies that would "ensure a level-playing field for all network operators… [including] setting of floor and ceiling pricing on all minutes, data, text messages, and mobile money."

While the government's statement explicitly mentioned MTN's near 70% market share in mobile data subscriptions, some believe that the real driver behind the move is mobile money, not mobile data.
Recently, mobile money in Ghana has enjoyed rapid growth that has largely benefitted MTN.

So perhaps regulators are seeking to prevent what happened in Kenya where now up to 50% of the country's annual GDP passes through Safaricom due to M-PESA's mobile money monopoly. 🤔
🌏 Asia Read of the Week
Big idea: An easy to read 156-page report that purports to be the ultimate introduction to China's online landscape. (Entrepreneurs & investors in Africa should look to the East, not the West, for inspiration.)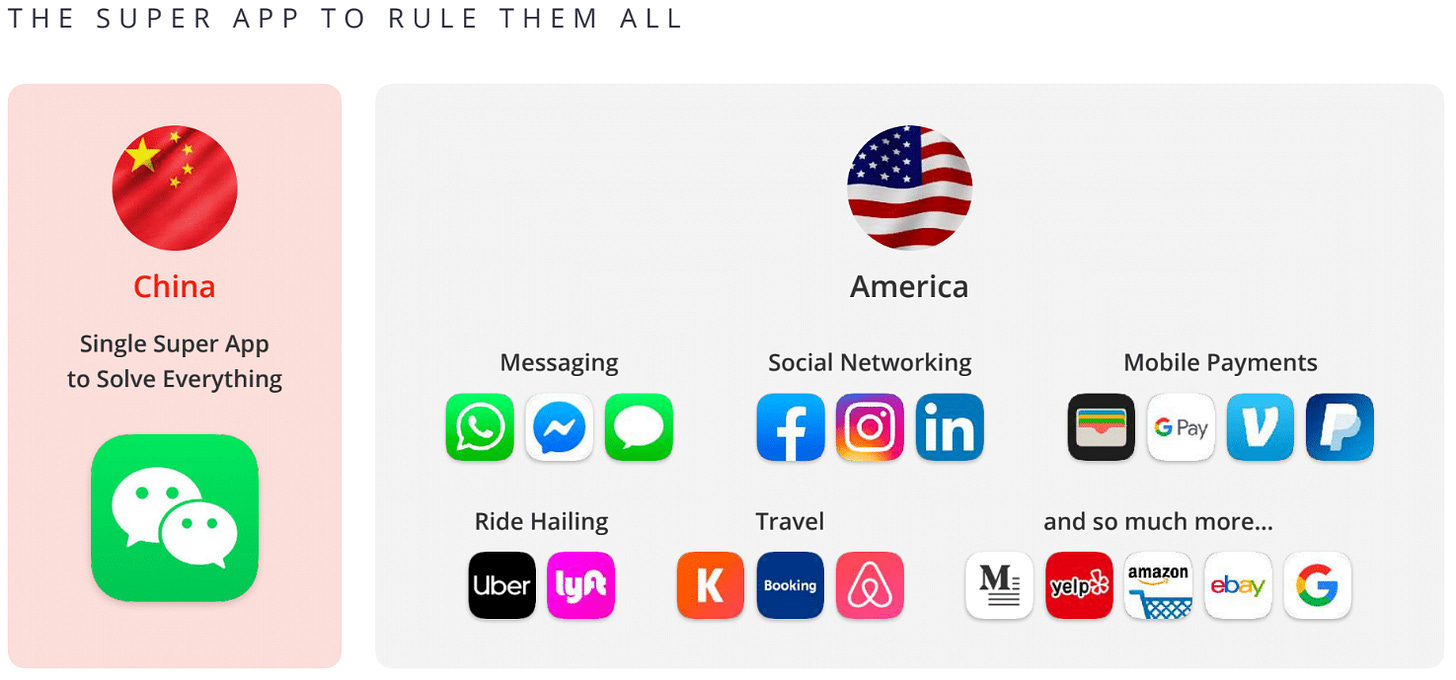 "Originally playing catch up, China is now in many ways indisputably ahead… [But] although China has grown a lot over the past decade, ... huge potential still lies ahead. 64% of the population live outside of the top tier cities, only 31% are middle class and there are still 600 million people living on less than 1,090 RMB (US$154) per month."
👉 "Social Media in China" by Alex Duncan's KAWO
👔 Management
Read of the Week
Big idea: Retention is important but not well understood. This remedies that by offering benchmarks across multiple startup sectors.
"Although retention is widely considered to be the most important metric to get right when building (and investing in) a business, it's also one of the least understood. Why? Because unless you're a growth expert or an experienced investor, you're often relying on anecdotes, dated blog posts, and misguided benchmarks…we reached out to twenty of the most experienced growth practitioners we knew and asked them."
👉 "What is Good Retention" by Lenny Rachitsky
📚
 Author's Recommended Read
Big idea: A narrative case study on the early strategic and product choices Iroko (sometimes called the 'Netflix of Africa') made in its early history.
"IROKO continues to show that pioneers can become powerhouses in sub-Saharan Africa by understanding and embracing the realities of the market, staying close to the customer, and, where necessary, 'distorting' an entire organization to meet customer needs & use cases. " 
👉 "How Iroko went from pioneer to powerhouse | Part 1 (2010-2016)" by Emeka Ajene, your humble author
🎙️ 
Podcast of the Week
Strongly recommended. George Mack hops on Chris Williamson's podcast for a 3rd time.
Mack studies mental models & uses them to make better decisions and clarify his thinking.

Here, he shares practical wisdom learned from Nassim Taleb, Naval Ravikant, Warren Buffett, Winston Churchill, and more.

Can't listen but want highlights? ➠ Read this thread.
👉 George Mack - Mental Models 103. Mental Wisdom Podcast.
Honorably mentioned. The well-respected think-tank, The Center for Strategic & International Studies discussed topics relevant to this newsletter last week on its Into Africa podcast.
Host: CSIS Africa Director Judd Devermont

Guests: Ilana Cohen (GSMA), Greg Cohen (Co-Founder, Asoko Insight) and Dr. Amani Abou-Zeid (African Union Commissioner for Infrastructure and Energy)

Topics: the GSMA's report "Digital Solutions for the Urban Poor"(PDF), Uganda's President, Madagascar's sanitation system, a smart, tech-enabled COVID-19 recovery, and more.
👉 There's an app for that. Into Africa Podcast.

🖼️ Visual of the Week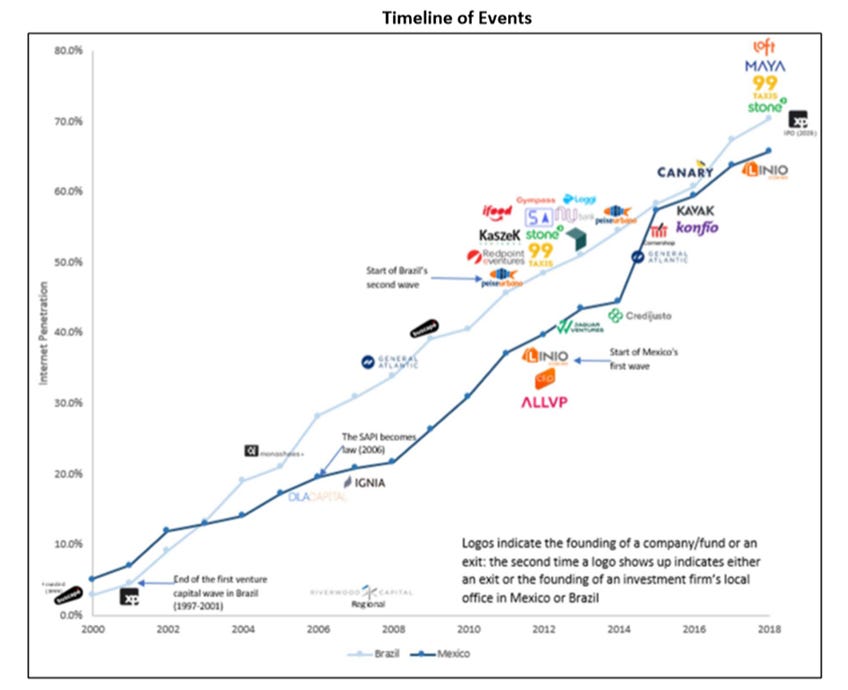 This graph plots Brazil and Mexico's internet penetration from 2000-2018 and uses startup and VC firm logos to show activity in and the evolution of their ecosystems. Note, for one, the uptick in activity around 2011.
💡 It'd be interesting to recreate this for Nigeria, Kenya, and other SSA markets. 🤔

💼 Job Opportunity of the Week
Nigeria's Co-creation Hub seeks a Lagos-based Director of Innovation Consulting.
CcHub is a tech hub & ecosystem builder supported by Omidyar Networks, the Ford Foundation, and others.

It acquired Kenya's iHub last year and has incubated & supported over 120 early-stage ventures since its 2011 debut, including Lifebank, Riby, BudgIT, and WeCyclers.
To submit a job opportunity, email: afridigest@substack.com

⚡ Learning Opportunity of the Week
The Venture Deals Summer 2020 free online course starts on June 28th.
It's for anyone who wants to learn more about venture capital, particularly entrepreneurs looking to raise venture capital and professionals aspiring to become VCs.

🕵️‍♀️ In case you missed it
In 1995, Robert Cringely interviewed Steve Jobs for PBS's Triumph of the Nerds. The full interview was 70 minutes, but only ~10 minutes were used. Soon afterward the original videotape of the interview was lost, until years later after Jobs' death.

This is the interview George Mack refers to in the Mental Wisdom podcast above.

Here, Jobs speaks candidly about the difficulties in the early days, the pain of his departure from Apple, and his vision for the future.
🕵️‍♂️🐤 In case you missed it - Twitter edition
In this thread that spurred an abundance of comments, Ghana-based tech entrepreneur and investor Victor Asemota questioned the long-term impact of local investors ceding control over tomorrow's markets to foreign investors.
Kola Aina, founder of Nigerian early-stage fund, Ventures Platform responded in this thread with personal anecdotes culminating in a Ted Talk he gave on the same topic titled 'Who will own our future unicorns?'
This thread created by Ada Oyom, a Nigeria software developer, featuring a length roll call of African women in tech
---
If you liked this show your appreciation by liking / sharing / commenting. To contact me, send me a DM on Twitter @eajene. Thanks for reading & have a great Week 25 🙌