Afridigest Week in Review: Are online high schools the future?
+Building proofs of concept on WhatsApp +Interswitch is back in the venture game +Mitchell Elegbe interview +Mdundo's ad-based revenue model +Facebook's new office +Some clarity on Cars45/Autochek
The Afridigest Week in Review is a must-read weekly recap for Africa-focused founders, executives, and investors, as well as interested observers.



Welcome back!





If you're new, welcome 🙌 — you'll receive 2 weekly Afridigest emails: the weekly digest 

(every Monday, generally around 12 noon-ish Lagos time) and either an original essay or the new Thought Circle format (on Saturdays at roughly 7pm-ish Lagos time)

. For past essays and digests, visit 

the archive

.
• Let me know what you think about today's digest: 👍 Like
or
👎 Dislike
?

Week 38 2020
📰 Deal of the week
ZOOM, BUT FOR EDUCATION
Valenture Institute, a South-Africa based online education startup, raised $7 million from GSV Ventures.
Founded in 2019 by Robert Paddock, Valenture Institute is a 'global private online high school' that offers a curriculum recognized by a number of the world's leading universities; according to Valenture, it "embeds the United Nations Sustainable Development Goals into its curriculum."
💡 Why it's the deal of the week: Digital education, like e-commerce & video-conferencing, is one of the sectors that has been accelerated by the pandemic. Valenture, less than one year after its launch, has already attracted students in South Africa, Australia, South Korea and the UAE, and is well positioned to benefit from any long-term shift and increase in the acceptance of online education. It aims to be teaching 100,000 students worldwide by 2030 and is led by an experienced founder who now joins forces with an investor with unique expertise. Are online high schools the future? 🤔
⛏️ Go deeper:
---
🔦 Other deals
BUSY WEEK FOR DEALS
OTHER DEALS
---
🌏 Asia Read of the Week
WHATSAPP AS A PLATFORM TO VALIDATE IDEAS
WhatsApp Messenger is ubiquitous in Indian and African markets; in fact, WhatsApp is the most popular free Android app in South Africa, Nigeria, Kenya, Ghana, Tanzania, and elsewhere across the continent. (See, for example, 'Africa's most popular apps & the insights they reveal.') Here, the author looks at how Indian startups like Dunzo and Digi-Prex have leveraged WhatsApp's distribution to launch proofs of concepts that serve as precursors to more feature-rich apps.
"WhatsApp has what all startups serving consumers & small businesses (SMEs) need: distribution… So let's investigate…how companies in India are using WhatsApp to test ideas… Similar to what WeChat is in China, I believe WhatsApp will be for the rest of the emerging markets… It is already happening in India & slowly beginning in Brazil. It is no coincidence that Facebook is testing WhatsApp Pay in both countries."
💡 "Leveraging WhatsApp for Proof Of Concept (POC)" by Ububele Kopo
---
📢 If you find this newsletter valuable, share it.
Afridigest is the industry newsletter for Africa's startup ecosystem. If you find it valuable, share it with founders, investors, executives, and others in your network who would benefit from receiving it.
---
🕵️‍♀️ In case you missed it
NEWS & ANNOUNCEMENTS
PERSONNEL MOVES
INTERVIEWS
---
💼 Job Opportunities of the Week
GENERAL MANAGEMENT/INNOVATION
Mastercard is hiring a Nairobi-based Vice President / Head of Nairobi Lab, Mastercard Labs.
GENERAL MANAGEMENT/COUNTRY LEADERSHIP
Bolt is hiring a Johannesburg-based Country Manager - Bolt Food.
DATA SCIENCE
Okra is hiring a Lagos-based Data Scientist (Machine Learning Engineer).
RESEARCH & INSIGHTS
BuyCoins is hiring a Lagos-based Research Assistant - Crypto.
OPERATIONS
The UK-Nigeria Tech Hub is hiring a Lagos-based Operations Manager.
OPERATIONS
Afrilabs is hiring three Abuja-based Associates (Social Media, Design, & Admin/Engagement).
VENTURE CAPITAL
Naspers Foundry is hiring a Capetown-based Investment Associate.
-
To submit a job opportunity to be featured here, email: hello@afridigest.com
---
🗣️ A final word
WHAT I'M THINKING ABOUT
I recently deleted my Instagram and Snapchat apps in the name of productivity and so far so good. At the same time, I recently discovered these two apps/desktop services that I'd highly recommend:
---
LA FIN
Thanks for reading 🙌 
Let me know what you thought of today's digest — yea or nay for this shorter version? :
👎 Dislike • 👍 Like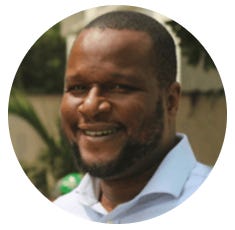 Finally, if you have any feedback or questions or just want to say hi, leave a comment or message me on Twitter @eajene or on Whatsapp. or send an email to hello@afridigest.com