Afridigest Week in Review: Does it smell like money in here? Or is it just me? 💰
+Africa's cultural exports +The livestream e-commerce trend +Everything you missed, including the Ikoyi rooster
The Afridigest Week in Review is a must-read weekly recap for founders, operators, and investors in African markets, as well as interested observers.




Welcome back! Since publishing the
first WIR
last week, I published 1
original long-form piece
, and this upcoming week, I expect to publish at least 1 shorter piece before the next WIR.
Just one quick ask: can you share this Week in Review with someone who'd be interested? Thanks in advance! Send any comments my way via Twitter DM: @
eajene
---
Week 20 2020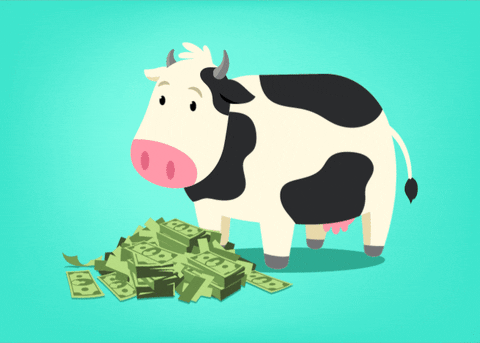 📰 Deal of the week
💸 Novastar Ventures raised $108 million in new commitments to its second fund, bringing its total capital north of $200 million.
The Nairobi- and Lagos-based VC firm invests in East & West African startups serving low-income households in sectors including education, information access, agtech, mobility, and off-grid energy.
It's already invested in three companies out of its new fund: pharmacy supply-chain tech firm, mPharma; off-grid refrigerator manufacturer, Sure Chill; and motorcycle ride-hailing company, MAX.ng. Its first fund portfolio includes Solar Now, M-Farm, Moko Furniture, Penda Health, iProcure and Soko.

💡 Why it's the deal of the week: Novastar's now up there with the big boys. 💪 Managing more than $200M, it's one of the larger Africa-dedicated early-stage growth capital vehicles.

⛏️ Go deeper: Is it an impact fund?
Novastar focuses on core impact sectors, it targets businesses that address "basic needs, basic goods and services," and among its investors are some of the leading players in Africa's impact capital space: AXA Impact Fund, CDC Group, European Investment Bank, Dutch Good Growth Fund, FMO, Proparco, Norfund and the Swiss Investment Fund for Emerging Markets (SIFEM). So surely if it walks like a duck, swims like a duck, and quacks likes a duck, it's a 🦆?

Novastar's Managing Director & Co-Founder, Steve Beck clarifies: "The way we characterize ourselves is we're a commercial venture fund with an impact screen."

🐥
💰
Other fundraising deals
Alitheia IDF, a joint venture fund between Nigeria's Alitheia Capital, and South Africa's IDF Capital secured a $10 million commitment from the Soros Economic Development Fund (SEDF), the impact investing arm of George Soros's Open Society Foundations. The fund will invest $1-$5M ticket sizes in SMEs that 'present an opportunity to promote gender equality,' with a focus on sectors with a high representation of female entrepreneurs. This is a win. 🤸‍♂️

AgVentures, a South African based agtech investment company, raised an anchor commitment of ~$5 million from Acorn Agri & Food, a leading South African agri-food business, to invest in the agri-food sector across Africa. Note: AgVentures seems to have pre-existing ties to Acorn Agri & Food.
🤝 VC deals
🎤 Culture: Africa's new oil?
Lagos-based Aristokrat Group, an African media & entertainment company best known for discovering and developing breakout African talent Burna Boy, entered into a strategic partnership with Universal Music Group, the world's leading music company, to develop & launch new African talent.

The joint venture includes a publishing deal through Universal Music Publishing Group, and the signing and distribution of Aristokrat Records' artists via Caroline France, a Universal Music France label. Piriye Isokrari, Aristokrat's Founder/CEO responded on Instagram…
…and on Twitter:
🌶️ 🌶️ 🌶️ Pepper dem season, indeed.

This UMG/Aristokrat partnership continues the general trend of global interest in African music, particularly the Nigerian music scene, and for good reason. According to PWC, Africa is home to some of the fastest-growing entertainment & media markets, with Nigeria predicted to be the world's fastest-growing E&M market through 2021.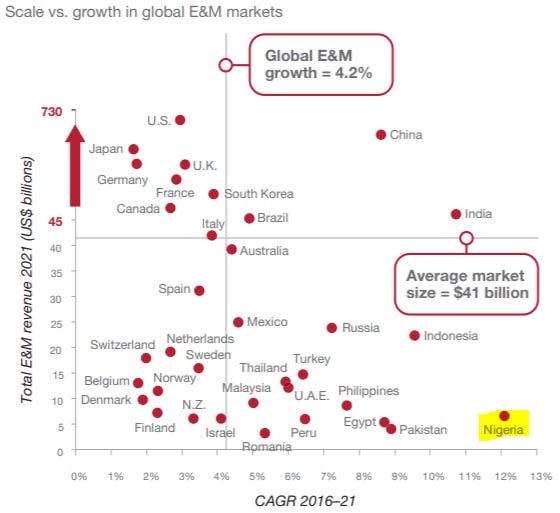 "We are ready to explore and exploit the 'new oil.' When we talk about diversifying the economy it is not just about agriculture or solid minerals alone, it is about the creative industry—about the films, theatre and music."

—Lai Mohammed, Nigeria's minister of information and culture
It seems like the world is quite ready for African cultural exports as well:
🌏 Asia Trend of the Week
Here, driven by a belief that innovators in Africa should pay attention to business models being developed in the Far East, we look in that direction for clues. This week's emerging Asia trend is "livestream e-commerce." More details will follow, but for now, here's a quick introduction:


💼 Management Read of the Week
Airbnb's first product manager, now a partner at NEA, writes in the Harvard Business Review about choosing a 'constellation' of performance metrics:
This constellation is made up of three kinds of metrics: quantity, quality, and efficiency…

Quantity is typically the top-line product metric that measures value or usefulness delivered to the customer — and, ultimately, revenue to the business.

Quality is the level of service customers receive when they consume your product. It can be a measurement of satisfaction, engagement, or retention.

Efficiency can be expressed in many different ways, but ultimately it is about having a high return on your investment (of people, time, or capital).

…Metrics aren't just a series of numbers; they should be a reflection of your company vision.
💡 'Don't Let a Single Metric Drive Your Business' by Jonathan Golden
📊 Chart of the Week
US E-commerce penetration as a percentage of retail sales.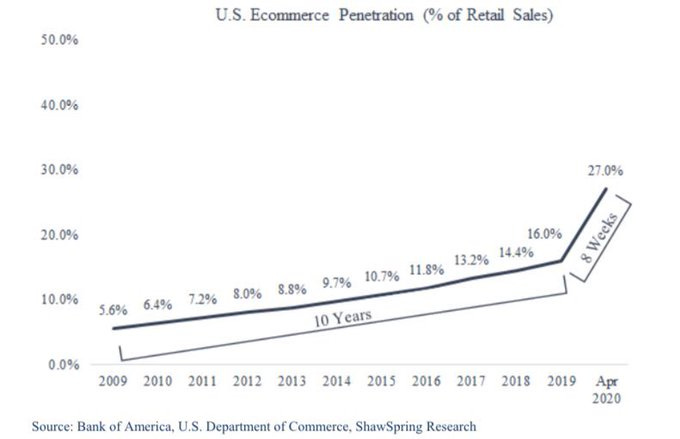 10 percentage points in 10 years, then 10ppts in 8 weeks. 🤯
"There are decades where nothing happens, and there are weeks where decades happen." — Vladimir Lenin
🕵️‍♀️ 
In case you missed it
[Article] How the biggest consumer apps got their first 1,000 users | Lenny Rachitsky presents firsthand research on successful B2C customer acquisition strategies.

[Article] The king's ransom waiting for African businesses that create magic moments for customers | Emeka Ajene explores an underused avenue of business competition in sub-Saharan Africa

[Article] Africa's four megatrends that are overcoming COVID19 | Eric Osiakwan writes about 4 megatrends helping Africa overcome the pandemic.

[Article] Pyrrhic – IROKOtv's Subscriber Base in Africa Grew from 2% to 83% in 5 Years | Jason Njoku writes about IrokoTV's Pyrrhic victory growing its Africa subscriber share 40x in 5 years. (For more context on Iroko, please see this article.)

[Article] Scale and Loyalty are more important online than offline | Gavin Baker fleshes out the idea that 'CAC is the new rent'

[PDF] Collateral Benefits | A collection of essays documenting 17 business practitioners' thoughts on COVID-19's impact in Africa and the way forward.

[Video] Early Stage Funding in Africa: A Pulse Check | Featuring Iyinoluwa Aboyeji, General Partner and Co-Founder, Future Africa; Justin Stanford, Co-Founding General Partner, 4Di Capital. 'Tokunboh Ishmael, Managing Partner and Co-Founder, Alitheia; Yemi Lalude, Managing Partner for Africa, TPG Growth.

[Video] Women have Proven to Be Great Leaders During COVID-19 | Is this the Pathway to Power? Featuring Saara Kuugongelwa-Amadhila, Prime Minister of Namibia, Phumzile Mlambo-Ngcuka, Executive Director of UN Women, Oby Ezekwesili, Former Minister of Education of Nigeria & Former World Bank Africa Region Vice President, and Anne Juuko, CEO Stanbic Bank, Uganda

[Video] Webinar on Product Strategy with former VP at Netflix, Gibson Biddle and Oluwatobi Otokiti, Founder ProductDive
🕵️‍♂️🐤 
In case you missed it - Twitter edition
This thread on the importance of sales and business development:

This thread on why bank card usage is low:

This thread on why wallets are the future of payments:

This thread recapping TechCabal's Bullish on Africa virtual conference:

And finally, grab your 🍿 for this 🐔 thread:
---
Thanks for reading! Now share this newsletter with someone like yourself with distinguished taste 🙌 The next WIR comes out next week, but we might meet again before then. See you soon. A très bientôt 😃