Afridigest Week in Review: Fintech continues to attract funding
+Deals in Kenya, Egypt, and elsewhere +Interactive e-commerce +Building on platforms +Word of mouth +Informal economy +Marcello, Chika, Chimezie on podcasts +More
The Afridigest Week in Review is a must-read weekly recap for Africa-focused founders, executives, and investors, as well as interested observers.



Welcome back! Here's some quick news:





• Since Week 32's digest, I published '

Innovators are shaping Africa's 'informal economy' where I used
Kenya's
Twiga Foods
, South Africa's
Nomanini
, and Tanzania's
Jamii
as quick case studies to highlight opportunities presented by
Africa's informal economy.
If you're new, welcome 🙌 — you'll receive 2 weekly Afridigest emails: an original essay 
(on Saturdays at roughly 7pm-ish Lagos time)
 and the weekly digest 
(every Monday, generally around 12 noon-ish Lagos time)
. For past essays and digests, visit 
the archive
. And subscribe if you haven't already:

Week 33 2020
📰 Deal of the week
FACILITATING PAYMENT ACCEPTANCE
Paymob, an Egyptian payments startup, raised $3.5 million in a funding round led by Global Ventures and the Dutch Entrepreneurial Development Bank FMO, with existing investor A15 participating.
Founded in 2013 by Islam Shawky, Alain El Hajj, and Mostafa El Menessy, Paymob provides digital payment solutions for merchants and institutions across Africa and the Middle East, including Egypt, Kenya, Pakistan, and Palestine.
💡 Why it's the deal of the week: Unlike other Egyptian startups that focus, at least initially, exclusively on the Middle East and North Africa, Paymob is already operational in sub-Saharan Africa. The startup offers merchants a relatively seamless integration of online & offline payments, providing, for example, cash collection kiosks for users.
Moreover, the fundraise is the latest in a notable 2020 trend of Egyptian startups attracting significant venture capital. Other Egyptian startups raising seven-figure rounds this year include Instabug, MoneyFellows, Fatura, and Chefaa.
⛏️ Go deeper:
Paymob's core product is called Accept — it allows businesses to accept payments from their customers across a wide range of locally-adapted payment methods and channels including installment payments, subscriptions, Cash-on-Delivery, and online & in-store global card payments.

Paymob also offers mobile wallet infrastructure that helps banks & telcos provide mobile wallets to end-users, and it's responsible for over 85% of mobile wallet transaction throughput in Egypt

Hear from Emily Renny, a Paymob Product Manager & Director:
---
🔦 Other deals
KENYA + EGYPT + ZAMBIA + MALI
---
🌏 Asia Read of the Week
ENTERTAINMENT + COMMUNITY + RECOMMENDATION = INTERACTIVE
A lot of "social e-commerce" isn't particularly social — 'interactive e-commerce' might perhaps be a more appropriate term. In this report, the authors explore interactive e-commerce using Pinduoduo as a case study and show how it can be seen in the evolution of Alibaba's e-commerce ecosystem, and even in the evolution of Facebook and Bytedance:
"Interactive e-commerce can be understood as an integration of consumer-facing elements of user experience: recommendation, community and entertainment — enabling supply-side optimization to offer increased value to the consumer … [Pinduoduo] is the largest and most prominent e-commerce company to build its business mode lpurposefully around the notion of interactive e-commerce: combining community, entertainment, and recommendation to provide more value for money to the end-user "
💡 "Defining interactive e-commerce: A model as observed through the case of Pinduoduo" by Matthew Brennan and Elliott Zaagman
---
⚔️ Strategy Reads of the Week
PLATFORM RISK & PLATFORM OPPORTUNITY
While the recent feud between Fortnite and Apple provides a timely reminder of the dangers of relying on someone else's platform, there are some underappreciated counterexamples where platforms provide unique opportunities. Here, Chris Zeoli, a principal at Base10 Partners (led by Adeyemi Ajao), writes about the businesses finding success building on Shopify's platform.
"[The] businesses that comprise the Shopify ecosystem are rarely discussed in the venture world—so let's dig into why this is the case and why more VCs should be spending time looking at companies growing on Shopify … While Amazon was the main driver of the initial shift to e-commerce, Shopify is quickly stealing some of the spotlight due to its rapid growth and differentiated business model. In fact, the most interesting thing about Shopify is how its ecosystem encourages entrepreneurs to create products and services that Shopify merchants can use to better their user experience."
🥇 "Faster Than Fast: SMB Retailers Move to Shopify" by Chris Zeoli
-
ON QUANTIFYING WORD OF MOUTH
While it's common to focus on new users when thinking about viral growth, startups should focus more on returning users. This essay lays out why and breaks down a new metric for quantifying Word of Mouth growth.
"Word of Mouth is critical, but notoriously hard to measure, and therefore hard to influence… Enter the Word of Mouth Coefficient… [It] tracks the rate that active users generate new users via word of mouth, similar to how ARPDAU tracks the rate that active users generate revenue."
🥈 "How to systematically measure and drive Word of Mouth acquisition" by Yousuf Bhaijee
-
ON THE OPPORTUNITIES WITHIN AFRICA'S INFORMAL SECTOR
This essay uses examples from Kenya's Twiga Foods, South Africa's Nomanini, and Tanzania's Jamii to highlight the opportunity the informal sector presents for innovators across Africa.
"Generally speaking…across the continent, the needs of participants in the informal sector remain largely under-served. Coupled with the continuing mobile and digital revolution in the region, this presents fertile ground for entrepreneurs and investors to create & capture value for & from a sizeable market segment with unique needs. "
🥉 "Innovators are shaping Africa's 'informal economy'" by Emeka Ajene
---
📢 If you find this newsletter valuable, share it.
Afridigest is the industry newsletter for Africa's startup ecosystem. If you find it valuable, share it with founders, investors, executives, and others in your network who would benefit from receiving it.
---
🎙️ Podcasts of the Week
FOR YOUR LISTENING PLEASURE
Marcello Schermer, Head of Expansion for Yoco (the 'Square of Africa'), discussed innovations in payments on the Emerging Markets Tech Startups podcast

Chika Nwobi, now Founder & CEO of Decagon, discussed scaling and exiting MTech, angel investing, and Nigeria's potential as a technology exporter on the Venture the World podcast

Chimezie Chuta, former Africa Regional Director at Paxful, shared thoughts on blockchain technology and cryptocurrency in Nigeria & Africa on the RareBirds podcast
---
💼 Job Opportunities of the Week
GENERAL MANAGEMENT
CardPay is hiring a Lagos-based Head of Nigeria.
BUSINESS DEVELOPMENT
54Gene is hiring a Lagos-based Director of Business Development.
OPERATIONS
Bolt is hiring a Lagos-based Sr. Public Policy Manager - West & Central Africa.
HUMAN RESOURCES
Jumia is hiring an Accra-based Head of HR.
-
To submit a job opportunity to be featured here, email: hello@afridigest.com
---
Visual of the week
A LOOK AT AGRITECH ACROSS AFRICA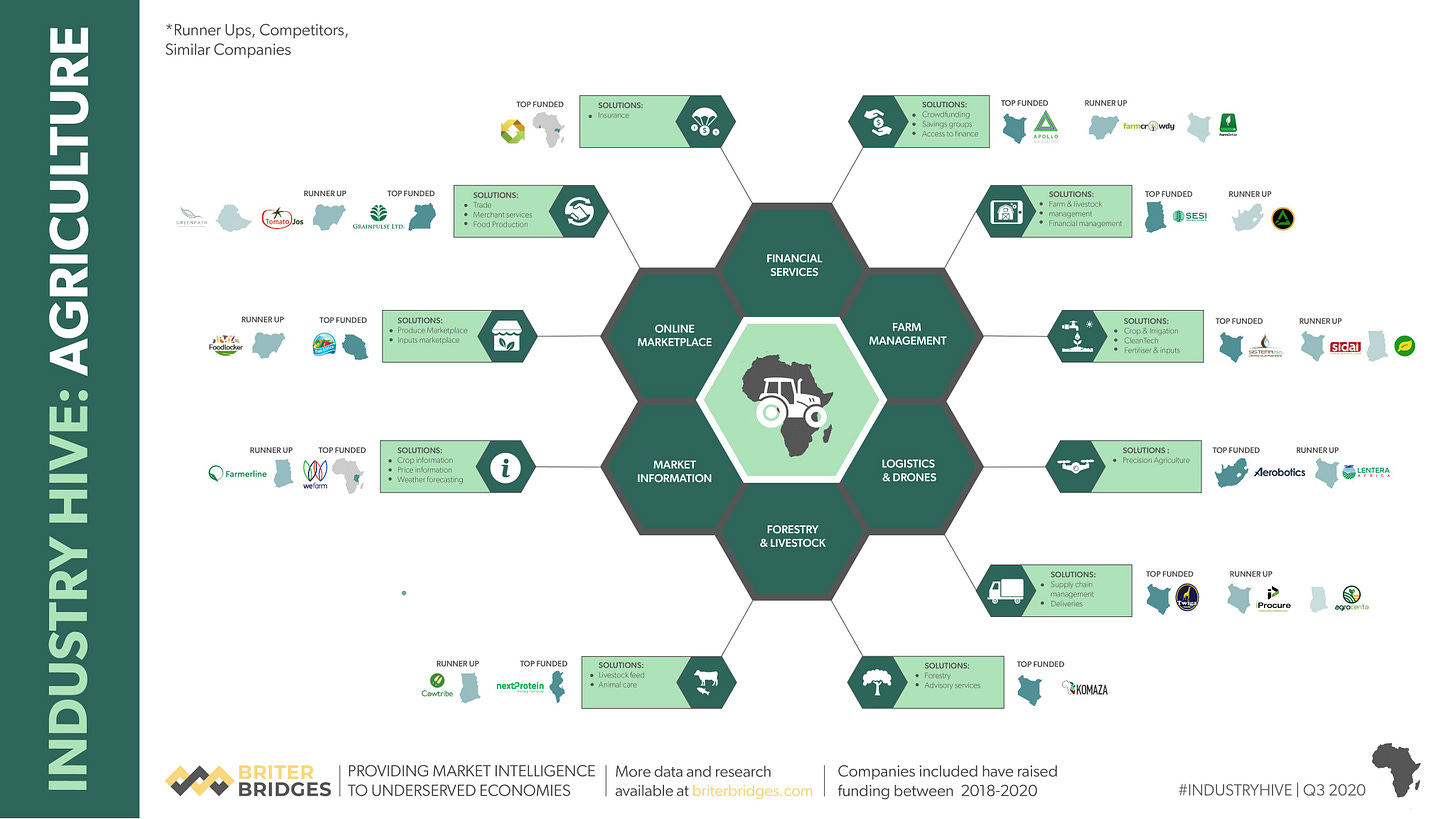 BriterBridges shared a new 'Industry Hive' that categorizes Africa's agritech startups by subsector.
---
🕵️‍♀️ In case you missed it
ESSAYS
NEWS & ANNOUNCEMENTS
INTERVIEWS
Isis Nyong'o and Jika Nwobi spoke with Techcabal's Kay Ugwuede about the July merger of Kenya's MumsVillage and Nigeria's BabyBliss to form Bliss Group, a pan-African parent & baby-focused omnichannel e-commerce + community platform

"It was very attractive to become a pan African business and it was always part of our goals to do that. It feels like we have been working together forever. It's such a great team and the synergies are great." — Jika Nwobi
REPORTS & RESOURCES
PM House Course- So you Want to Be a Product Manager?

"During senior year, a friend and I who'd done PM internships got tons of asks for advice on what "product" is, how recruiting works, and more. So we decided to teach a for-credit class on Product at Duke. I'm open-sourcing all of the course materials!" — Rishi Tripathy
VIDEOS
Chinedu Echeruo gave a keynote presentation on "How Blockchain and Artificial Intelligence will disrupt FINTECH in Nigeria"

TechCabal published the discussion with Andela's Omowale David-Ashiru on re-strategizing and pivoting during a crisis
---
🕵️‍♂️🐤 In case you missed it - Twitter edition
JUMP IN THE CONVERSATION ON TWITTER
Iyin 'E' Aboyeji reminds Nigerian/African innovators of the market reality:
George Mack highlights six mental models from a talk Keith Rabois gave on building billion-dollar startups in this thread:
Alex Cohen shares fundraising mistakes and learnings in this thread:
'10-K Diver' walks through discounted cash flow analysis in this thread:
---
🗣️ A final word
WHAT I'M THINKING ABOUT
Insider's vs. Outsider's perspective.
Kat Cole, COO & President of Focus Brands, recently appeared on the Invest Like the Best podcast.
One idea I haven't been able to let go of since is her "hotshot rule."
"I envision a badass in my role tomorrow and I ask myself 'what is one thing they would look at and immediately address.' … So my 'hotshot rule' [is] the act of pausing, reflecting, asking what someone else would do … because it's not hard to see it when you think about it through someone else's lens." — Kat Cole
It's not complex but it's probably underutilized as a thought exercise — at the same time, I imagine there are clear benefits to seeing things with "new eyes" continually (even if those new eyes are your own).
The idea also strikes me as a simple way to operationalize on a day-to-day basis key parts of Jeff Bezos'/Amazon's Day 1 philosophy. In any case, it's a highly recommended listen for an informed discussion on leading teams & building businesses.
---
LA FIN
Thanks for reading 🙌 If you have feedback or questions, or just want to say hi, leave a comment on this article, or message me on Twitter @eajene or on Whatsapp.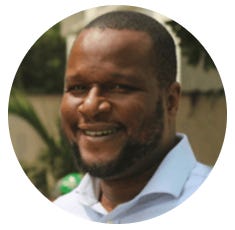 Oh, one more thing: how did you like today's digest?