Afridigest Week in Review: More cash for Africa's early-stage startups 💰
+Fintech deals +Fintech becomes E-commerce +The end of iFlix +Figma Case Study +Iyin's Calabar Charter City +Vivian Nwakah's Medsaf +Much more
The Afridigest Week in Review is a must-read weekly business & innovation recap for founders, operators, and investors in African markets, as well as interested observers.



Welcome back! Some quick news for you:





• Since Week 25's digest, I published this article on the

top venture rounds so far in 2020

.





This is the last newsletter in the first half of the year. Given COVID-19's personal and business impacts, let's hope the odds are in our favor in Q3.





If you're new, welcome 🙌 — you'll receive 2 weekly Afridigest emails: this weekly digest 

(every Monday at 11:30ish Lagos time) and an original essay (every Saturday at 7pm Lagos time).
If you like this newsletter, do me a favor and share it with your networks. Thanks! 🏆

Week 26 2020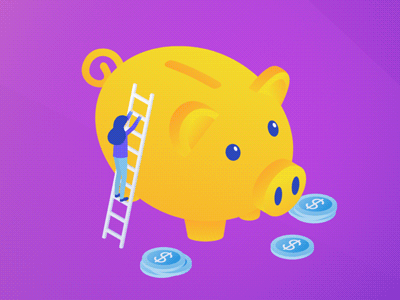 📰 Deal of the week
MORE MONEY FOR EARLY-STAGE VENTURES
Ingressive Capital raised $5 million, growing its current AUM to $10M.
The Lagos-based pre-seed & seed-stage VC fund operates in Nigeria, Kenya and Ghana, and invests in tech-enabled companies targeting large markets. Its current portfolio includes Paystack, 54gene, Bamboo, and Tizeti.

💡 Why it's the deal of the week: With the raise, Ingressive significantly boosts its ticket sizes to $200-400k from $50-100k previously, welcome news for early-stage entrepreneurs in the ecosystem.

⛏️ Go deeper: Other interesting points:
Ingressive Capital boasts a diverse LP mix, now including Lo Toney's Plexo Capital (which also supports Charles Hudson's Precursor Ventures), Platform Capital, Techstars, Western Technology Investment, the Nigeria Sovereign Investment Authority, and Y Combinator's Michael Seibel.

Due to its mix of LPs, Ingressive can reliably introduce portfolio companies showing traction to investors with deeper pools of capital.

Ingressive was founded in 2017 by Maya Horgan Famodu who shared some inspirational words about this raise:

"We have a lot of dry powder for new pre-seed deals and we're still very actively investing in companies." — Maya Horgan Famodu

Congrats, Maya & the team! 🥂
---
🤝 Other deals
4 FINTECH + 1 ENERGY
MoneyFellows, an Egyptian savings platform, raised a $4 million Series A round from Partech Partners and Sawari Ventures

Founded in 2016 by Ahmed Wadi, MoneyFellows has digitized one of Africa's oldest communal saving systems, the Gam'eya as it's known in Egypt and other Arab countries. (Also known as susus in parts of Anglophone West Africa, tontines in Francophone West Africa, and stokvels in South Africa.)

Despite the different names, the core concept is the same: a group of people pay in equal sums weekly or monthly to a collective fund and every week or month, the entire pool is paid to one member of the club. This continues until all members have received their share. MoneyFellows has digitized this entire process, layering on gamification, credit-scoring, and other digital features. See also: This congratulatory LinkedIn post from Partech GP, Cyril Collon.
---
🔦 SPOTLIGHT
FINTECH = E-COMMERCE
Wiza Jalakasi told us two years ago that, in Africa, banks are becoming telcos and telcos are becoming banks. And now, there's more convergence in the ecosystem: fintech is becoming e-commerce. Or, more precisely, payments providers are increasingly offering ecommerce-related services.
This week, Nigeria's Paystack launched Paystack Commerce, a solution that helps individuals and businesses sell physical and digital products. With the announcement, Paystack joined Flutterwave, Remita, OPay, and other financial services companies that have recently entered the e-commerce fray in some way. Likely a natural evolution, after all, what's commerce without payments, or payments without commerce?
Abubakar Idris explores this trend in some detail in his Techcabal article.
(To see Paystack Commerce in action, click here. 😊)
---
🌏 Asia Read of the Week
CHINESE GIANTS
Iflix raised ~$350 million, tried for a 2019 Australian IPO that would have valued the company at ~$1 billion, and just sold to Tencent for "several tens of millions of dollars" [rumored to be $20M-$60M]. (If you remember, Iflix exited Africa in December 2018 after just 18 months of operations.)
"Iflix is believed to have sought bids from international media conglomerates and the three major streaming platforms in China: Alibaba's Youku; the Baidu-backed, NASDAQ-listed iQIYI, and Tencent Video … All three of the Chinese giants are under pressure to evolve. Struggling under the weight of their original content costs they are losing money at home, and increasingly face challenges from newer players including TikTok (known as Douyin in China), Bilibili and Kuiashou." 
💡 "China's Tencent Video to Buy Southeast Asian Streamer Iflix" by Patrick Frater
---
⚔️ Strategy Read of the Week
BRILLIANT ANALYSIS OF SEQUENCING LOOPS & NETWORK EFFECTS
In this piece, a former investor at Greylock Partners analyzes Figma's success, highlighting the tactics the company used to accelerate enterprise adoption and exploring how it seeks to become a platform via a plugin ecosystem. (You'll recall that Figma recently raised a $50M Series D round led by Andreesen Horowitz.)
"Figma's compounding growth is not only due to product market fit, but is also driven by the alignment between their product and distribution. There are limits to Figma's success if it remains only valued and spread within companies. In order to break through that asymptote, Figma must build a global network effect across the ecosystem … Many companies are now at this inflection point. They have found success with their core product and are trying to push themselves to the next level of value to customers and scale."
🥇 "Why Figma Wins" by Kevin Kwok
-
THE VALUE PROPOSITION OF CONTENT DECAYS FASTER THAN THAT OF SOFTWARE
A quick exploration of software businesses vs content businesses.
"Both content and software products match the characteristics I listed in the previous section: short feedback loops, no distribution constraints, and an attractive investment profile. Everything lines up. However, things are different at the business layer. Software companies tend to have higher margins and lower customer churn than media businesses. If their products have such similar characteristics, shouldn't their businesses have similar characteristics as well? Why is a software business more attractive than a media business?"
🥈 "Why Software is More Profitable Than Content" by Adam Keesling
-
NO MEGA ROUNDS SO FAR THIS YEAR
A quick review of the top startup fundraising rounds in 2020 so far.
"Although investor interest in Africa continues to be high as evidenced by the funding rounds above, given the absence so far of mega-rounds (like the $200M Interswitch round, the $120M OPay round, and the $100M Andela round that took place in 2019), it's likely that the total value of 2020's VC deals will fall short of 2019 figures."
🥉 "Africa's top venture rounds in the first half of 2020" by Emeka Ajene
---
Support this newsletter and gain real-world business insights.
In case you missed it, I wrote a case study about Len Blavatnik, Britain's richest man, and some of his business moves, including the purchase & IPO of Warner Music Group—the greatest deal in the music industry in modern times. It's an original look at an underappreciated global dealmaker that focuses on actionable insights, and the feedback from other readers of this newsletter has been extremely positive. Thanks for your support. 🙏
---
🎙️ Podcast of the Week
STRONGLY RECOMMENDED
Iyin Aboyeji, Founder & GP Future Africa, stopped by Mark Lutter's Charter Cities podcast earlier this month. (Fascinating interview that I somehow missed at first — in it, Aboyeji offers great insights into the Nigerian ecosystem, his Flutterwave/Andela background, "survivalist entrepreneurship", and his Talent City charter city project in Calabar.)
"In Nigeria, you tend to think about things in terms of stark differences. On the one hand, you have survivalist entrepreneurship. On the other hand, you have mega capitalism. You get my point. There's no in-between. There's no, 'I'm a small business.' Every small business owner wants to hammer with the federal government contract and become Dangote. That's the dream. Oftentimes, what happens is people pull other people along this path with them and then create that trail. That's how you see Nigeria work." 
-
RECOMMENDED
Vivian Nwakah, Founder & CEO Medsaf, visited Oluwapelumi Fafowora's New Africa podcast. (Another great interview where Vivian talks about her background and how moving from the US to Nigeria shaped her approach to business.)
"I saw the opportunity to use tech and data analytics to start to leapfrog some of the decaying infrastructure that is in place here … Instead of being resigned to the fact that most things here don't work, how can you disrupt the system so that you can create something of value for the common good of the people and actually improve people's lives and also have a sustainable business in place? So our legal name is actually Disrupt Pharma Tech, we came into this country to disrupt it."
---
💼 Job Opportunity of the Week
LEADERSHIP/GENERAL MANAGEMENT
Binance is looking for business development personnel in South Africa.
Binance operates the world's largest digital asset exchange by trading volume and users
To submit a job opportunity to be featured here, email: afridigest@substack.com
---
Visual of the week
FINTECH IS EATING AFRICA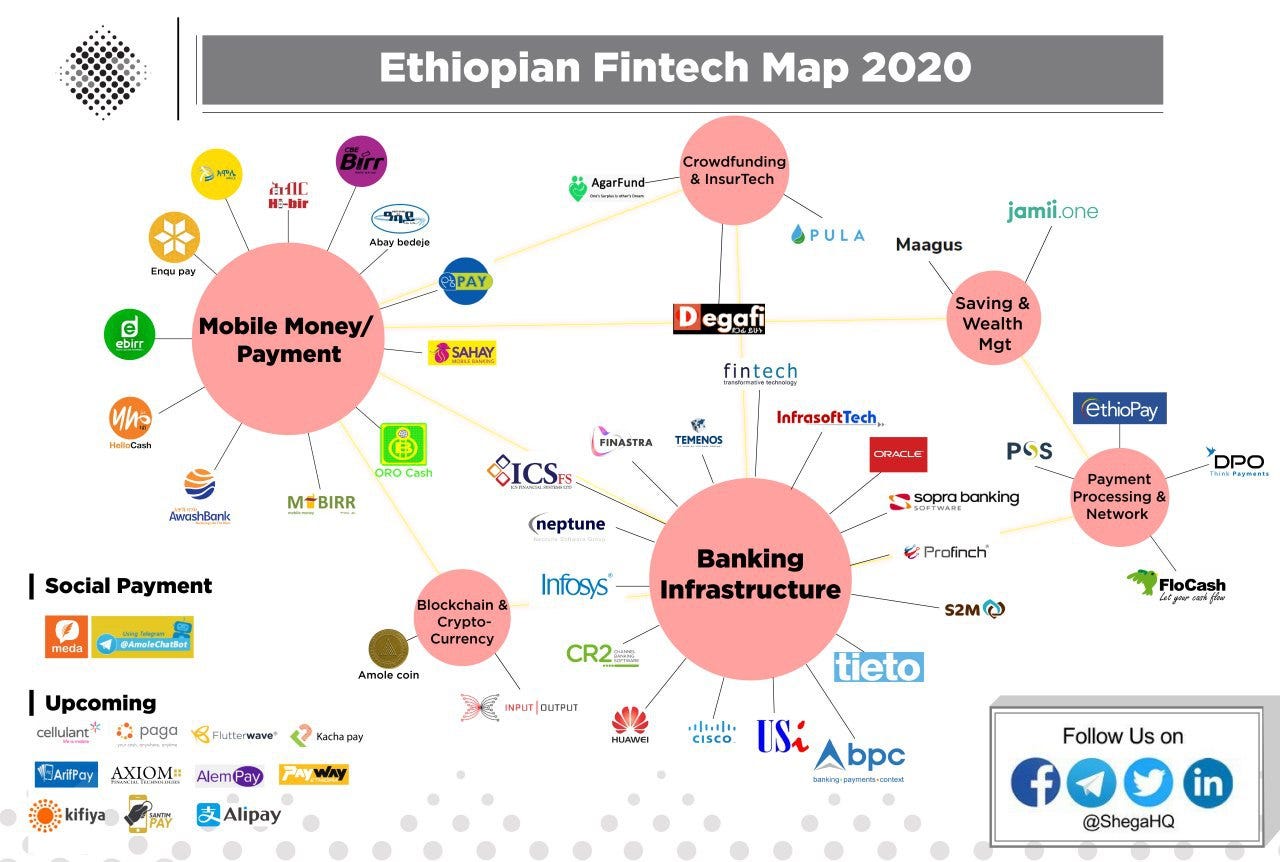 A map of Ethiopia's emerging fintech ecosystem from Ethiopian data & insights platform, Shega.
---
🕵️‍♀️ In case you missed it
ESSAYS
Reporter Madhvi Mavadiya writes that 'there is more to digital payments in Africa than M-Pesa'

"Digital technology is allowing emerging markets in Africa to leapfrog traditional financial processes and process payments quicker than is perceived in developed countries ."

Kenyan entrepreneur Sophy Mwale shares a raw perspective in The Reflections of An African Founder

"I guess sometimes all it takes is a pandemic to get perspective…2020 has been a big year as far as learning, understanding, and accepting that not everything that's good for everyone should be good for me, and my company." 

Tracy Young (who previously founded PlanGrid) shares Reflections on Being a Female Founder

"I remember the highest level of excitement I have ever felt, finally pregnant after trying for almost a year, and within a few hours, I swung to one of my lowest moments as a CEO."
NEWS & ANNOUNCEMENTS
REPORTS
VIDEOS
The DFS Lab hosted a conversation on growth with Piggybank's Odun Eweniyi, Carbon's Chijioke Dozie, Iwoca's Laurence Booth-Clibborn, and DFS Lab's Stephen Deng

CcHub's Bosun Tijani spoke with Techcabal's Tomiwa Aladekomo about the role of innovation hubs in Africa's tech ecosystem:

Former Buddhist monk and Headspace co-founder Andy Puddicombe stopped by Google to talk about mindfulness:
---
🕵️‍♂️🐤 In case you missed it - Twitter edition
JUMP IN THE CONVERSATION ON TWITTER
Micheal Kimani highlights the rise and perceived limitations of virtual card offerings in this thread:

'Laolu Samuel-Biyi highlights DSTV's challenges in Nigeria in this tweet and subsequent comments:

Chris Bakke shares an informative thread on fundraising as a first-time founder:
---
🗣️ A final word
WHAT I'M THINKING ABOUT
If I hold a calendar over my head is that an … update? 🏃 Don't leave me. 🏃
---
LA FIN
If you liked this show your appreciation by subscribing and liking / sharing / commenting and checking out the case study. To contact me, reach out on Twitter @eajene. Thanks for reading. 🙌