Afridigest Week in Review: Securitization for a mobility startup
+Product-market fit +Product promise fit +Consumer internet in India +Forbes Africa's tycoons +Regaining lost momentum
The Afridigest Week in Review is a must-read weekly recap for Africa-focused founders, executives, and investors, as well as interested observers.



Welcome back! And happy new month — it's the first Monday in October.

(I'm quite late today, but with a bit of luck, I should be back to a regular schedule soon, including weekly essays.)
If you're new, welcome 🙌 — you'll (generally) receive 2 weekly Afridigest emails: the weekly digest (every Monday afternoon Lagos time) and either an original essay or the new Thought Circle format (generally on Saturdays at roughly 7pm-ish Lagos time)

. For past essays and digests, visit 

the archive

.

Week 40 2020
📰 Deal of the week
ALTERNATIVE CAPITAL
Metro Africa Xpress (MAX.ng), a Nigerian mobility startup, raised ~$1 million (₦400 million) via the issuance of 1-year fixed-rate corporate bonds; yields weren't disclosed.
Founded in 2015, MAX offers motorcycle-taxi ride-hailing and delivery services. The company previously raised $8.5M, including a $7M June 2019 Series A round ($6M equity, $1M grants).
💡 Why it's the deal of the week: It's a bit unusual for startups on the continent to raise capital via bond issuance in this manner, and this innovative MAX bond is perhaps the first of its kind in sub-Saharan Africa. Among MAX's investors are Yamaha Motor Co. and Breakthrough Energy Ventures, and the mobility startup provides vehicles, including EVs, on a lease-to-own basis to its drivers; with this deal, MAX is apparently securitizing the vehicle lease receivables owed to it.
⛏️ Go deeper:
The bond was distributed via an apparently oversubscribed private placement, and MAX aspires to raise an additional $21M via bond issuance

According to MAX's press release:

"Proceeds from the Bond shall be used to fund MAX's growing asset financing program across 2-wheeler, 3-wheeler and other vehicle classes in Nigeria and beyond, as MAX continues to institutionalize driver financing across the continent."

Is this the start of a new trend?

👉 If you have more info on this transaction, dear reader, drop me a note: hello@afridigest.com
---
🔦 Other deals
A NICE START TO Q4
OTHER DEALS
---
📚 Read of the Week
MARKET "PULLS"
Former Airbnb product manager Lenny Rachitsky interviewed founders from companies like Airbnb, Netflix, Uber, Stripe, Dropbox, Superhuman, Instacart, GitHub & more about when they knew they found product-market fit.
"Over the past few months I reached out to founders of the twenty five most iconic companies I could get a hold of and asked them one question: 'When did you first know you found product-market fit? Whatever that point means to you…"
🥇 "What it feels like when you've found product-market fit" by Lenny Rachitsky
PRODUCT-PROMISE-FIT
Product-market fit is a prerequisite for sustainable growth. But the author, a partner at VC firm NFX, argues here that there's an earlier, critical step that should happen before building a product — he calls it "product-promise-market fit" and walks through it.
"The product promise is in fact the first step of finding your product-market fit — and testing its validity should be done before spending any effort on building the product. … No longer is the startup process: 'find a problem, build a solution, market it.' The order of operations has been flipped. Marketing skills (writing, designing, campaigning, and analyzing) now come in a lot earlier. Even before you've written a single line of code."
🥇 "The New Mindset for Product-Market Fit" by Gigi Levy-Weiss
---
🌏 Asia Read of the Week
DIFFERENT MODELS OF MONETIZATION
The author, an analyst an Indian VC firm Good Capital, shares learnings on why ad-based models are tough to successfully monetize in India and, in doing so, provides an interesting read on consumer internet models in emerging markets.
"In India, it's hard to sell products or subscriptions online that users can avoid paying for. Of the 550 million people online, ~100 million have ever made a purchase. Then there's also an added layer of complexity of transaction process and trust. Unless it's essential, willingness to pay is less. And why not? India is still a developing country with $2.5K GDP per capita, and comparisons to the US ($60K per capita) and Chinese ($10K per capita) markets are quite unfair."
💡 "Are ad-based business models practical in India?" by Rohit Manchanda
---
📢 If you find this newsletter valuable, share it.
Afridigest is the industry newsletter for Africa's startup ecosystem. If you find it valuable, share it with founders, investors, executives, and others in your network who would benefit from receiving it.
---
🕵️‍♀️ In case you missed it
NEWS & ANNOUNCEMENTS
ESSAYS
INTERVIEWS
---
💼 Job Opportunities of the Week
GENERAL MANAGEMENT
Coda Payments, the emerging markets-focused payments provider, is hiring a Johannesburg-based Regional Manager, Sub-Saharan Africa.
PRODUCT
Founders Factory Africa, the Africa-focused venture builder, is hiring a Johannesburg-based Product Lead.
SALES & MARKETING
Zipline, the SF-based drone start-up operating in Ghana & Rwanda, is hiring a Nairobi-based East Africa Sales Lead.
INFRASTRUCTURE
Facebook is hiring a Johannesburg-based Partner Manager, Network Investments - Emerging Markets, Africa.
-
To submit a job opportunity to be featured here, email: hello@afridigest.com
---
🗣️ A final word
WHAT I'M THINKING ABOUT
How fragile momentum can be.
I broke my weekly writing habit a couple of weeks ago, and I'm finding it harder than expected to get back on the horse. Other commitments related to the end of the third quarter and the start of the new one haven't helped much, but I'll dedicate some time to writing after hours on Thursday and Friday and, with a bit of luck, I'll return to publishing regularly on Saturdays this week. 🤠🏇
---
LA FIN
Thanks for reading 🙌

Let me know what you thought of today's digest:
👎 Dislike • 👍 Like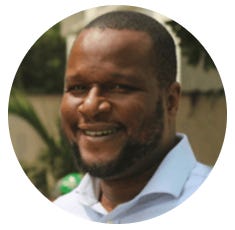 And if you have any feedback or questions or just want to say hi, leave a comment or message me on Twitter @eajene or on Whatsapp. or send an email to hello@afridigest.com