Afridigest Week in Review: South African sensors
+An African music streaming IPO +A new African unicorn +Deals in Egypt +Deep-Dives on Spotify & Tencent +Myths about Failure +A new African challenger bank +More
The Afridigest Week in Review is a must-read weekly recap for Africa-focused founders, executives, and investors, as well as interested observers.



Welcome back! I hope your week is off to a great start! Here's some quick news:





• Since Week 33's digest, I published '

Should African entrepreneurs target the few affluent or the many low-income consumers?

' — a quick response to a Harvard Business Review article. The feedback here has been quite interesting with many agreeing and others disagreeing strongly. If you have any thoughts to share here, I'm very much interested.





If you're new, welcome 🙌 — you'll receive 2 weekly Afridigest emails: an original essay 

(on Saturdays at roughly 7pm-ish Lagos time) and the weekly digest (every Monday, generally around 12 noon-ish Lagos time)

. For past essays and digests, visit 

the archive

.
And subscribe if you haven't already:

Week 34 2020
📰 Deal of the week
FACILITATING PAYMENT ACCEPTANCE
LightWare LiDAR, a South African LiDAR sensor tech company, raised ~$1.5 million from Sanari Capital.
Founded in 2011/2012 by James Portman, LightWare manufactures the world's smallest and lightest LiDAR systems that "give eyes" to drones, robots, autonomous vehicles, smart cities, etc.
💡 Why it's the deal of the week: LightWare ticks three promising boxes: it's a startup operating in Africa with 1) hard intellectual property that 2) sells to international customers 3) and serves sectors with strong underlying growth trends (internet of things / fourth industrial revolution in this case).
⛏️ Go deeper:
LightWare's founder James Portman previously founded and led Laser Measurement, a firm that was acquired by Swiss tech company, ABB

Global tech giants like Google and Amazon use LightWare LiDAR components to build drones

LiDar or Light Detection and Ranging is a remote sensing method, like radar or sonar, except it uses light in the form of a pulsed laser instead of radiowaves or sound waves.

For additional background see this April 2020 article or hear more about the LiDAR technology & science from LightWare's Founder in the (technical) video below:
---
🔦 Other deals
EGYPT
Makwa, an Egyptian on-demand laundry & dry cleaning platform, raised a six-figure round.

Founded in 2018 by Aly Eteiba, Makwa is an Egyptian 'Uber for laundry' that offers doorstep pick-up and delivery in areas around New Cairo. Customers use the app or website to schedule pickup and delivery time slots, give special washing/ironing instructions, track their orders, review their orders' history and rate the service.

Thndr, an Egyptian platform for trading stocks, announced that in December 2019 it raised a pre-seed round from Y-Combinator, 4DX Ventures, Endure Capital, The Raba Partnership, and MSA Capital.

Founded in 2019 by Ahmad Hammouda (Uber Egypt's former General Manager), Thndr is a Robinhood-like equity trading app for the Egyptian market — it just received a license from Egypt's Financial Regulatory Authority.
OTHER DEALS
Brandon Drew, co-founder and General Partner at Saas Growth Ventures & 500 Startups mentor, invested in Nigerian startup ThankUCash.

Balaji Srinivasan, former Stanford lecturer, former CTO of Coinbase, and former GP at Andreessen Horowitz, invested in Nigerian startup BuyCoins.

Mdundo.com, a Danish-owned music streaming platform with ambitions of becoming the Spotify of Africa, filed for a ~$5 million IPO on the Nasdaq First North Growth Market for the Nordic region.

Mdundo has 5 million monthly active users and 20 million monthly downloads and "its business focus [is] in 15 countries in sub-Saharan Africa, including a commercial market focus in Tanzania and Kenya, where Mdundo started in 2013, and a marketing focus in Nigeria, Ghana and Uganda."
---
⚔️ Strategy Reads of the Week
SPOTIFY, THE NEXT AMAZON?
A great deep-dive/investment thesis on Spotify from Coho Capital Management.
"Spotify has put the customer at the center of everything it does. Like Amazon, Netflix, and Costco, investment spend is geared toward elevating the user experience above all else. This is not done in the spirit of charity but in the recognition that customers have choice and scaled Internet platforms win the spoils. Daniel Ek put it best, "engagement drives usage, usage drives data insights, data insights drive a better user experience. A better user experience drives longer lifetime value."

Mr. Ek has taken a patient approach in building out Spotify's moat, realizing that he can better fortify the company with a long-term view. Just like Bezos with Amazon, Ek is happy to defer profitability in the pursuit of growth. Ek knows once Spotify achieves the scale he envisions there will be nothing anyone can do to dislodge its dominant perch. In the meantime, however, it appears foolish, just as Amazon's 20-year march to profitability did."
🥇 "Spotify: A Case Study in Business Strategy and Value Compounding" by Jake Roser (See the original letter here)
-
"FAILURE IS OFTEN THE DEFAULT STATE FOR STARTUPS"
LinkedIn Co-Founder turned VC Reid Hoffman offers advice to founders about failure.
"A classic but frequently misunderstood dictum for founders is that they should fail fast and celebrate failure…[but] the goal isn't to fail fast – it's to learn fast by tackling your most dangerous potential points of failure. By testing your investment thesis as quickly as possible, you give yourself more time to correct your mistakes and change your approach.

… The best framework for knowing when to pivot is to define and evaluate an explicit investment thesis. Write down all the things that need to be true–of the market, of your customers, of the product, of the competition, of the revenue model–in order for your startup to succeed. This investment thesis isn't set in stone and will evolve over time, but having it gives you a much stronger basis for evaluating the need to pivot. As you make progress, ask yourself, 'Is my confidence in my investment thesis going up or down?' "
🥇 "Myths about Failure: Why Understanding Failure Can Lead to Success" by Reid Hoffman
-
TOP OF THE PYRAMID OR REST OF THE PYRAMID? 🤔
This essay responds to one part of a Harvard Business Review article that suggests the road to entrepreneurial success in Africa goes through affluent consumers.
"Targeting Africa's low-income consumers is the larger overall B2C opportunity and telcos, CPG/FMCG companies, and some banks operating in the region have increasingly shaped their organizations around this reality. Although it involves several challenges (for example, requiring the development of innovative inroads into the informal economy in some cases or re-thinking pricing strategies), entrepreneurs and investors who are able to successfully navigate these roadblocks will be richly rewarded."
🥉 "Should African entrepreneurs target the few affluent or the many low-income consumers?" by Emeka Ajene
---
🌏 Asia Read of the Week
PART OPERATING COMPANY, PART INVESTMENT FUND
This is a great deep-dive on Tencent that, among other things, touches on how Allen Zhang and Martin Lau changed the company's trajectory. (In case you missed it: I wrote a bit about Allen Zhang and WeChat earlier in 'Why super apps are proliferating across emerging markets.')
"Tencent is a Chinese holding company that is the world leader in gaming and runs the largest messaging, social networking, and mobile payments platform in China. It uses the cash flow from those businesses to invest in the next generation of massive companies in China and around the globe. Tencent combines the diversification of an old school conglomerate with the growth and decentralization of an internet-native business into a company that may become the largest in the world."
💡 "Tencent: The Ultimate Outsider" by Packy McCormick
---
📢 If you find this newsletter valuable, share it.
Afridigest is the industry newsletter for Africa's startup ecosystem. If you find it valuable, share it with founders, investors, executives, and others in your network who would benefit from receiving it.
---
💼 Job Opportunities of the Week
MARKETING
Farmcrowdy is hiring a Lagos-based VP of Marketing.
SALES & BUSINESS DEVELOPMENT
uLesson is hiring a Lagos, Abuja, or Port Harcourt-based Enterprise Sales Manager, Edtech Solutions.
PRODUCT
Gokada is hiring a Lagos-based VP of Product.
GROWTH
Akili Ventures' Somo Grow is hiring a Nairobi-based Growth Hacker / Product Marketer.
IMPACT INVESTING/VENTURE CAPITAL
AlphaMundi is hiring a Nairobi-based Investment Officer.
IMPACT INVESTING/VENTURE CAPITAL
The AT Impact Fund is searching for an external investment committee member to bring African market expertise (as an entrepreneur or investor) to the Fund.
OTHER
Fred Swaniker, founder and CEO of the African Leadership Group, is hiring a Chief of Staff.
-
To submit a job opportunity to be featured here, email: hello@afridigest.com
---
Visual of the week
A NEW AFRICAN UNICORN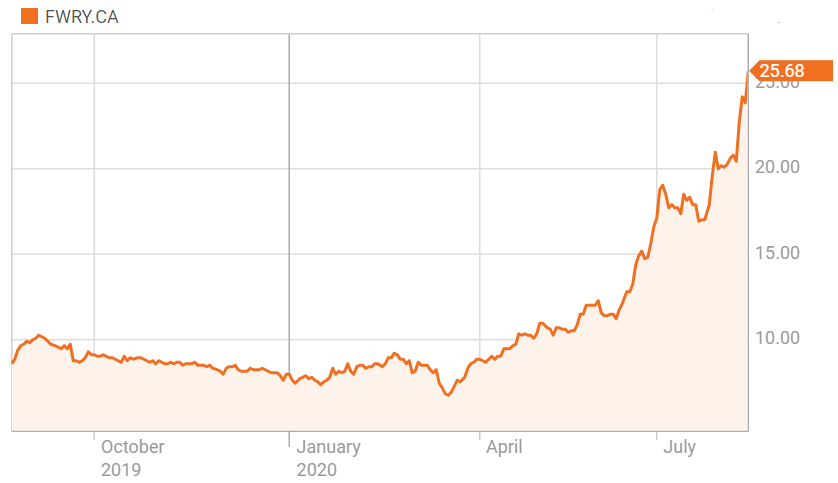 Egypt's Fawry, an electronic payments provider, went public almost exactly a year ago in an IPO on the EGX that valued the company at EGP ~4.56 billion or $287 million. One year later, its share price has grown almost 4x, valuing the company at EGP 17.34 billion or ~$1.09 billion — say hi to a new (public) unicorn. (COVID-19 has proved a boon for Fawry as its H1 2020 net profit increased 165% y/y to ~$4.4 million.)
---
🕵️‍♀️ In case you missed it
ESSAYS
NEWS & ANNOUNCEMENTS
INTERVIEWS
REPORTS & RESOURCES
VIDEOS
DFS Lab & the UK-Nigeria Tech Hub held a webinar on African Exits
PODCASTS
---
🕵️‍♂️🐤 In case you missed it - Twitter edition
JUMP IN THE CONVERSATION ON TWITTER
Chijioke Dozie offers some advice on industry intelligence for fintech entrepreneurs in this tweet:
Scott Gorlick highlights excerpts of Uber's driver acquisition playbook in this thread:
Dan Rose shares another Amazon story in this thread about the company's journey from first party to third party retail:
Cindy Alvarez provides a playbook for dealing with customer feature requests in this thread — "if there's no workaround, then it's not a real problem" :
---
🗣️ A final word
WHAT I'M THINKING ABOUT
Marketing to African consumers has been on my mind lately, and one resource I've found quite interesting that draws from global examples is Harry Dry's Marketing Examples. (Honorable mention goes to Andrea Bosoni's Zero to Marketing.)
For any marketing enthusiasts on the continent reading this, I think there'd be strong interest in Africa-focused marketing content/case-studies. (And if you know of anything like this that already exists, dear reader, please send it my way.)
---
LA FIN
Thanks for reading 🙌 If you have feedback or questions, or just want to say hi, leave a comment on this article, or message me on Twitter @eajene or on Whatsapp.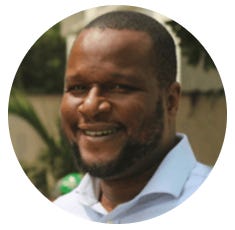 Oh, one more thing: how did you like today's digest?