Afridigest Week in Review: Capital for consultants
+Plentywaka, Guidepost & other deals +A Pinduoduo deep-dive +A startup post-mortem +Kola, Rebecca, Tayo hit the podcasts +A clever mass-market pricing guide +Decade of design +Valuable resources +More
The Afridigest Week in Review is a must-read weekly recap for Africa-focused founders, executives, and investors, as well as interested observers.



Welcome back! Here's some quick news:





1. Since Week 31's digest, I published '

Demystifying venture opportunities in African markets

.

' It responds to some of your frequently answered questions about the earlier-published Hierarchy of Venture Opportunities — Thanks for your feedback, please keep it coming!
2. The 'Thought Circles' concept is taking shape and should kick-off soon. Thanks for your support, and stay tuned!





If you're new, welcome 🙌 — you'll receive 2 weekly Afridigest emails: an original essay 

(on Saturdays at 7pm-ish Lagos time) and the weekly digest (every Monday at 12 noon-ish Lagos time)

. For past essays and digests, visit 

the archive

. And subscribe below if you haven't already:

Week 32 2020
📰 Deal of the week
THE HIDDEN TREASURE IN TALENT — 'WE NO GIVE UP'
Africa Foresight Group (AFG), a Ghanaian platform for hiring freelance management consultants in Africa, raised a $700,000 seed round led by Consonance Investment Managers and GFH Holdings. AFG was founded in 2016 by former McKinsey consultant Yasmin Kumi.
💡 Why it's the deal of the week: AFG is somewhat unique. While the continent is dotted with small boutique consultancies, AFG is among the few platforms aggregating consulting talent; it's a marketplace dedicated to freelance management consulting that aspires to be somewhat of a TopTal for Africa.
Since inception, AFG has completed more than 140 engagements across Africa with over 100 consultants. The startup plans to build Africa's largest talent network and is among the few women-led startups on the continent that has raised institutional capital. (Its management team is comprised entirely of women also — sometimes referred to internally as the 'Amazons.')
⛏️ Go deeper:
Founder/CEO Yasmin Kumi talked about the intersection of technology and consulting in an interview earlier this year: "I believe that there is a trend towards more platform-type business models that bring curated talent to clients instead of being a traditional consulting firm with big overhead costs. That is why we started AFG. Meanwhile, large consulting firms are starting to become big in the field of software development to complement their existing service portfolio so that the big clients they serve can benefit from more comprehensive support."

See Kumi's June op-ed, 'Why Africa needs talent networks instead of more consulting companies,' for more

And see Kumi's LinkedIn post for more context — "They no give up"
---
🔦 Other deals
TRANSPORT, E-HEALTH, FINTECH, DATA
---
🌏 Asia Read of the Week
FROM SELLING FRUIT TO SELLING FUN
A thorough deep-dive on China's Pinduoduo, one of the world's fastest-growing companies, that covers its founding story, tactics and strategies it used to beat incumbents, and what to expect in the future.
"Pinduoduo…eliminated layers of middlemen and flipped the retailing model from being supply-driven to demand-driven. The team used a mobile-first approach that gave it a fundamentally different product DNA than incumbents … It took advantage of down payments from suppliers and used stretched payment terms to create float out of customer transactions. It used that float to fund customer acquisition, and then leveraged clever growth tricks on an emerging distribution channel (WeChat) to acquire hundreds of millions of overlooked customers for practically free."
💡 "Pinduoduo and Vertically Integrated Social Commerce" by Turner Novak
---
⚔️ Strategy Reads of the Week
ON OPPORTUNITY COSTS VS. RISKS OF LOCK-IN
Pranav Deshpande, a Twilio product marketing manager, writes about software infrastructure companies like Twilio, Amazon Web Services, Stripe, and more.
"The opportunity cost is inversely proportional to how strategically important the infrastructure is to the business model of the company. Taking an extreme example, Netflix would never use a third party video streaming API even though it could significantly lower their engineering costs. The opportunity cost is non-existent here because of how critical owning the end-to-end video streaming infrastructure is to their business. WhatsApp is an example on the other extreme — SMS verification is a core part of their user on-boarding flow. But the opportunity cost of directly connecting to every single carrier in the world is too high! It makes more sense to use Twilio than divert engineering resources from working on the core product."
🥇 "Why do some API infrastructure startups become massive businesses?" by Pranav Deshpande
-
A PERSPECTIVE GROUNDED IN EXPERIENCE NOT JUST THEORY
Holly Liu, co-founder of mobile gaming company Kabam, discusses measuring product-market fit. (She previously grew Kazam revenues from $0 to over $400 million annually).
"Product market fit means you made something that lots of people want. Product market fit is a factor of both quantity and level of desire. Therefore, if you have tremendous growth in active users (virality) and/or revenue (monetization), then it proves both the quantity and desire for product market fit. The other metrics: retention/churn or engagement are required, but not sufficient as they only prove a level of desire, but not quantity."
🥈 "How do you know you have Product-Market Fit?" by Holly Liu
-
HOW ENTREPRENEURS & INVESTORS CAN WIN IN AFRICAN MARKETS
A clarification of 'The hierarchy of venture opportunities', a mental model for entrepreneurs and investors in African markets today.
"If you were starting a new venture in Africa today, what would it be?' 'Which African startups are the most attractive to invest in today?' … In 'The Hierarchy of Venture Opportunities,' I put forth that entrepreneurs & investors in sub-Saharan African (and similar emerging markets) are most likely to find success if they concentrate on ventures that:

build basic or alternative infrastructure;

organize and integrate fragmented markets;

minimize transaction costs & friction;

enable entrepreneurship & economic empowerment;

or create entirely new markets."
🥉 "Demystifying venture opportunities in African markets" by Emeka Ajene
---
📢
If you find this newsletter valuable, share it.
Afridigest is the industry newsletter for Africa's startup ecosystem. If you find it valuable, share it with founders, investors, executives, and others in your network who would benefit from receiving it.
---
🎙️ Podcasts of the Week
FOR YOUR LISTENING PLEASURE
---
💼 Job Opportunities of the Week
ENGINEERING
Brass is hiring Lagos-based Frontend and backend engineers.
BUSINESS DEVELOPMENT
Mastercard is hiring a Nairobi-based Vice President - Market Development, Sub-Saharan Africa to develop new revenue streams from non-core products and solutions.
OPERATIONS
Glovo is hiring an Abidjan-based Account Manager.
-
To submit a job opportunity to be featured here, email: hello@afridigest.com
---
Visual of the week
A POTENTIAL GUIDE TO MASS-MARKET PRICING ACROSS AFRICA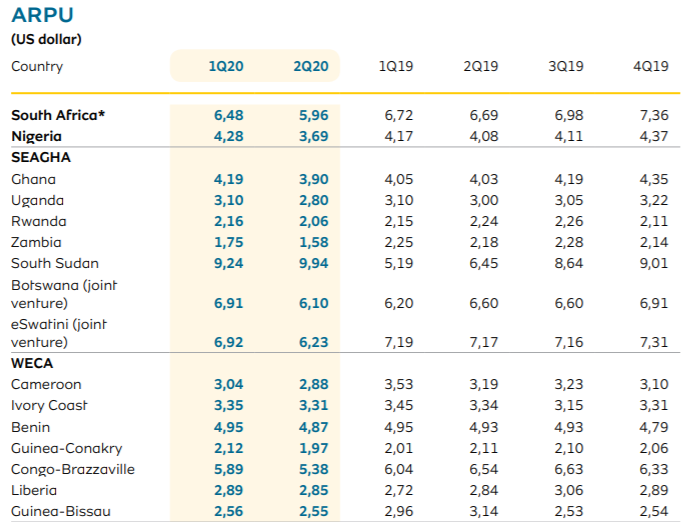 MTN, Africa's largest telco with almost 200M subscribers on the continent, released its H1 2020 results that included the chart above of average revenues per user by country. Given MTN's position in some markets (e.g., its ~60% share in Ghana or its ~40% share in Nigeria), this data suggests that non-staple products & services that target the mass consumer market in these countries are unlikely to gain widespread acceptance if priced at much more than $1.25 - $1.50 monthly (~$4 quarterly).
---
🕵️‍♀️ In case you missed it
ESSAYS
NEWS & ANNOUNCEMENTS
INTERVIEWS
Ed Zimmerman interviewed Ingressive Capital's Maya Horgan Famodu

"You can still build high-growth companies in countries where per capita GDP is below $5,000. That opportunity still exists now, but it's typically low-margin, high-volume businesses…You can make money in Africa, but business models have to shift and execution is entirely different. There are still many untapped billion-dollar opportunities."

How We Made it in Africa interviewed Kobo360's Obi Ozor

"A challenge posed [by] the management [of] Honeywell, a large Nigerian conglomerate, led to a breakthrough in 2017. 'We invited them to find ways to test us. So, they asked us to find six trucks for the Lagos–Maiduguri route,' he laughs. The route was into the heart of an area plagued by terrorist organisation Boko Haram, where truck drivers often lost entire loads to the militant group. Kobo360 delivered four trucks within 48 hours … [Kobo was] awarded a four-year contract from Honeywell."

Techpoint interviewed Swipe's Jesse Ghansah (formerly of OMG Digital)

"Unfortunately, the media landscape has been tough in the past few years. It's been incredibly hard trying to monetise because most of the advertising budgets still go to traditional media, while most of the digital ad budgets are on Facebook and Google, leaving others to share the rest ... It is one of the hardest sectors you can operate in these days. Fintech is way easier and more straightforward because you're providing 'x' value and making money off a transaction fee. It's different for media." 
REPORTS & RESOURCES
---
🕵️‍♂️🐤 In case you missed it - Twitter edition
JUMP IN THE CONVERSATION ON TWITTER
Sheilah Birgen, a Kenya focused ecosystem builder, shares a perspective on the limits of leapfrogging in this tweet (it reminds me of something I heard recently — you can't deploy an asset-lite model unless the assets already exist somewhere in the ecosystem) :
With the TikTok situation shining a light on relations between China and the US, W. Gyude Moore (previously Liberia's Minister of Public Works), offers some thoughts on the impact the "new Cold War" between China and the West will have on Africa in this thread:
Coatue's Dan Rose shares some more behind-the-scenes tech history — this time on the launch of Facebook's news feed — in this thread:

Author Ryan Holiday shares some wisdom in this tweet:
---
🗣️ A final word
WHAT I'M THINKING ABOUT
One trend on my mind lately is the 'decade of design.'
In 2011, Marc Andreessen wrote that software is eating the world. And in the blog announcing Andreesen Horowitz's investment in Figma this past April, Peter Levine writes, "That was the decade of code. Now, we are moving into the decade of design: One where design, not just code, is at the center of product development and successful organizations. Companies…are changing…our fundamental, table-stakes expectations for what a great product is. … A decade ago, function over presentation was the rule. … But now — in the decade of design — the interface no longer reflects the code; rather, the code reflects the design. We expect better, we deserve better, we demand better…it's no longer optional to have good design."
One interesting manifestation of this trend is the recent launch of Form Capital, an early-stage fund that offers startups hands-on design support with each investment — in other words, not just capital, but color palettes too.
I remember during Gozem's earliest days, we were on the fence about hiring a designer as one of our first five or so hires, but we ultimately pulled the trigger. And within weeks of the hire we found ourselves questioning why there was ever a debate in the first place — the impact was unmistakable and I now find myself evangelizing the idea more and more.
In any case, design strongly affects the perception of a product and as users continue to become more sophisticated, design in all its forms (UI, UX, marketing, etc.) is likely to become more a differentiating factor. It'll be interesting to watch this trend develop further. Function matters of course, but form may soon matter more. #decadeofdesign
---
LA FIN
Thanks for reading 🙌 If you have feedback or questions, or just want to say hi, leave a comment on this article, or message me on Twitter @eajene or on Whatsapp.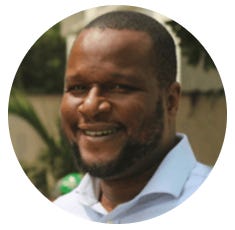 Oh, one more thing: how did you like today's digest?