Afridigest Week in Review: It pays to organize the informal sector
+Venture Hierarchy +Fundraises in Egypt, South Africa, and Morocco +Spotlight on microforestry +Super apps and social commerce +Disrupting Disruption +Fara, Benji, and Marek +More
The Afridigest Week in Review is a must-read weekly recap for Africa-focused founders, executives, and investors, as well as interested observers.



Welcome back! Some quick news/comments:





• Since Week 28's digest, I published

this article on how (African) startups should think about growth
• Don't miss

this webinar covering how to fundraise successfully

on July 21.





If you're new, welcome 🙌 — you'll receive 2 weekly Afridigest emails: an original essay 

(on Saturdays at 7pm-ish Lagos time) and the weekly digest (every Monday at ~12 noon Lagos time)

. For past essays and digests, visit 

the archive

. Subscribe below:

Week 29 2020
📰 Deal of the week
DOLLARS FOR DISTRIBUTION
TradeDepot, a Nigerian B2B supply chain platform raised a $10 million pre-Series B round co-led by Partech, the IFC, Women Entrepreneurs Finance Initiative (We-Fi) and MSA Capital.
Founded in 2016 by Onyekachi Izukanne, Michael Ukpong and Ruke Awaritefe, TradeDepot has built a network of over 40,000 informal retailers in Nigeria and enables direct to retail distribution and a simplified route-to-market for CPG brands.

💡 Why it's the deal of the week: TradeDepot attacks a $1 trillion opportunity, Africa's offline retail market. Moreover, when viewed through the lens of the hierarchy of venture opportunities in emerging markets, the company is particularly attractive: it organizes today's fragmented informal retail markets while enabling entrepreneurship and economic development. And in the long term it's well positioned to become/build robust alternative route to market infrastructure for global consumer brands.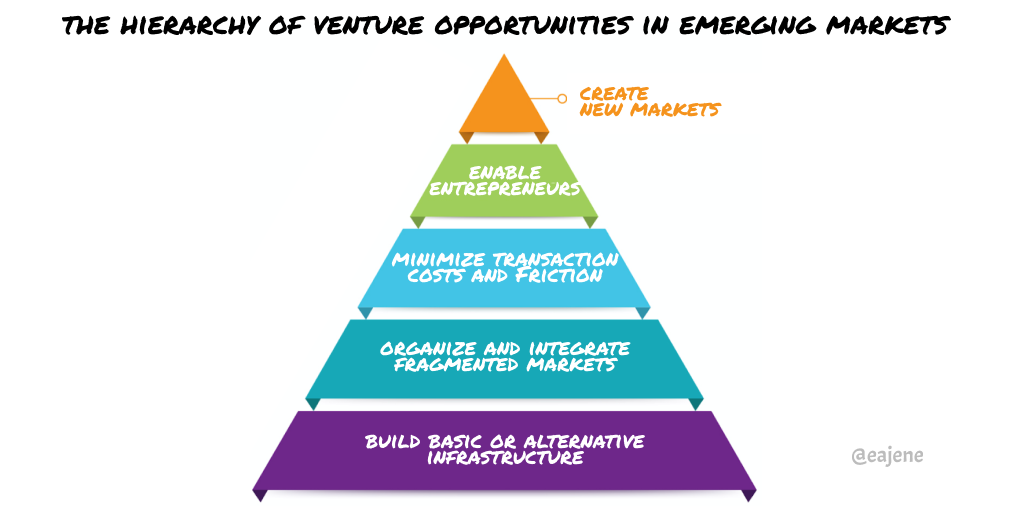 ⛏️ Go deeper: The CEO explains in his own words…
…what TradeDepot does:
"We started this in 2016 to put the power of e-commerce in the hands of informal retailers... the goal really is to make food and household supplies more accessible and available to these stores which is where 90% of consumers on the continent shop. We're also finding that this adds a lot of value to the consumer goods brands because this is data-driven, it gives them a better route to market, and it consolidates what is a largely fragmented retail supply chain."

…why the pre-Series B fundraise:
"The decision to drive a fundraising round now is to support our planned expansion. We're working to expand our footprint across Nigeria into more cities as well as double-down on pilots we're running on a few cities outside the country and, in addition to this, extend some working capital financing to the retailers that we support."

See also this 2017 video where TradeDepot's CEO explains the problem the company is solving, its early traction, and the company's vision
---
🤝 Other deals
FUNDRAISING: E-COMMERCE, HOME SERVICES, AR/VR, FINTECH, ED-TECH, ENERGY
OTHER DEALS: NEW VC VEHICLE AND M&A
---
🔦 Spotlight
WHO 'WOOD' HAVE THOUGHT? 😉
In what could have easily been the deal of the week, Komaza, a pioneer in Africa's sustainable forestry sector, secured a first close of $28M of a planned $33M Series B. While Komaza is positioned as 'tech-enabled', its reliance on tech seems peripheral in comparison to the majority of ventures this newsletter focuses on. Nonetheless, the company is interesting and worth highlighting in it's own right, so here's a quick profile.
Overview: Komaza is a 'micro-forestry' company employing a tech-enabled 'outgrower' (contract-farming) model to meet Africa's wood supply gap.
Background: The CEO, Tevis Howard, explains the company's origins as follows: " I discovered a remarkable opportunity to help dryland farmers lift themselves out of poverty. The poorest farmers in East Africa often have surplus land and labor, while regional and global demand for wood products grows. I learned that, unlike seasonal crops that are highly dependent on accurate timing of rainfall, trees can survive months without water and can effectively utilize rain whenever it comes. Wealthy farmers in Kenya already plant trees as a low-cost, high-return investment, and their farms flourish even in semi-arid land. A lack of knowledge and resources prevents others from accessing the same opportunity.

Komaza has created an entirely new model called microforestry. We know that smallholder farmers need access to a complete value chain – from quality inputs to end product markets – in order to profit from their land. Our key innovation is that our model enables complete financial self-sustainability, from individual farmers to our organization as a whole. We spend roughly $250 to start a farm. Over our ten-year harvest cycle, a farmer can earn more than $5,000 from both short-term crops and high-value trees. They continue earning the money as long as they maintain their farms. As an organization, we retain a portion of each farm's revenue to invest with new families."
Business Model: Komaza partners with low-income Kenyan farmers to plant high-profit commercial tree farms on their land, then the trees are harvested and processed into high-margin wood products (charcoal, roundwood, electricity poles, timber, boards and bio-kerosene) and sold to individuals and shops. Komaza then shares the earnings with the farmers.
Opportunity: Africa faces a wood supply crisis, with demand projected to double in the next twenty years. Wood markets in Kenya alone are worth $875M annually. (And kerosene markets are worth $750M annually, again in Kenya alone.)
---
🌏 Asia Read of the Week
SUPER APPS ARE THE FUTURE, EVEN IN THE WEST?
a16z's Connie Chan spoke with Kinsey Grant on Morning Brew's business casual podcast about consumer tech, superapps, social commerce, video commerce, TikTok, US/China and more.
"Once you have an application that wants to be a super app, that also is payment-enabled, think about it as like single sign-on for the web. Imagine every time you go to a website, they already can know a little bit about you and personalize that experience, and you are just one click checkout for every ecommerce site. I would end up buying a whole lot more stuff if I did not have to input my credit card every single time … The reason why I think super apps became much more obvious in Asia is Asia and China, specifically, is more of a mobile-first, almost mobile-only society." — Connie Chan
💡 "The U.S.- China Tech Battle: Social Commerce, Super Apps, and the Future of TikTok" - Podcast Transcript
-
CONTENT + COMMERCE = SOCIAL COMMERCE
An overview of Chinese e-commerce trends and the factors that have contributed to the rise of social commerce in the country.
"Because of China's mobile first nature, consumers are much more accustomed to taking and watching videos on their smartphones. Videos have the same draw and convenience in China as photos have in the US, making China a hotbed for live streaming and other video based content, including commerce oriented content."
💡 "What the US can learn from China on Social Commerce" by Jess Li
---
⚔️ Strategy Read of the Week
THEORIES ARE MEANT TO BE TESTED
Disruption theory is incredibly popular and widely applicable. But is it incomplete?
"Startup founders and investors love disruption theory because it gives them a playbook: find an incumbent who has made their product too expensive or complicated, then make a version that's simpler and cheaper, but better along some new dimension. Then, launch to a previously ignored audience, and improve the experience over time … But, increasingly, the smartest thinkers in modern strategy are questioning whether the playbook always works."
🥇 "Disrupting Disruption" by Nathan Baschez
-
HOW PRODUCT & GROWTH DECISIONS WERE MADE AT ICONIC COMPANIES
How to hire great PMs, how to leverage early adopters, how product CEOs can stay close to their product teams, and more. From April Underwood, previously Director of Product at Twitter and Chief Product Officer at Slack.
"The key is leveraging your early adopters toward your strengths, even if their use case first appears unique. At Slack, we were taking some heat that we were mostly used just by engineering teams. It finally dawned on me that this was a benefit, that we were popular among engineering teams for a few structural reasons: 1) Finance doesn't question the engineering team when they say they need a tool and gives them more access and bigger budgets for tools. 2) Engineers are often the tastemakers for technology selections within the entire organization. Ask yourself this question: "Why is it fantastic that this is the first audience that we have? How do we leverage that to play to our strengths?"
🥈 "The Product Thinking That Built Slack & Twitter, with April Underwood" by Pete Flint
-
COMPANIES HAVE JUST "FOUR BASIC GROWTH ALTERNATIVES"
Ansoff's Matrix, a strategic framework from Russian-American mathematician Igor Ansoff (in some ways a predecessor to Clayton Christensen), is an underutilized tool that startups can use to formulate their growth strategy.
"At the end of the day, Ansoff's matrix doesn't prescribe a specific growth strategy. Its power comes from the manner in which it encourages leaders to explore various courses of action in relation to a company's existing markets/customers and existing product/service offerings. This exercise, done with risks, uncertainties, and company resources in mind, helps startups make the best individual decision for growth."
🥉 "How (African) startups should think about growth" by Emeka Ajene
---
Support this newsletter by sharing it with your networks.
Afridigest is the industry newsletter for Africa's startup ecosystem. Share it with founders, investors, executives, media personnel, and others who would benefit from receiving it. Thanks for your support. 🙏
---
🎙️ Podcasts of the Week
SOME HEAVY HITTERS THIS WEEK - WELL WORTH THE LISTENS
Okra Co-Founder & CEO/CTO Fara Ashiru Jituboh, NALA Co-Founder & CEO Benjamin Fernandes, and Interswitch Divisional Chief Executive Officer for Transaction Processing and Enablement Business Akeem Lawal visit the Fintech Insider podcast by 11:FS.

-

Marek Zmyslowski, author and founding CEO of Jovago (Jumia Travel) stopped by the Misfit Entrepreneur podcast
---
💼 Job Opportunities of the Week
VENTURE CAPITAL
The IFC is hiring a Lagos-based Investment Analyst for its Disruptive Technologies and Venture Capital team.
IMPACT INVESTING/PRIVATE EQUITY
Norfund, the Norwegian Investment Fund for developing countries, is hiring a Capetown-based Investment Manager - Scalable Enterprises.
PRODUCT
Carbon, the pan-African digital bank, is hiring a Lagos-based Product Manager.
PUBLIC POLICY/GOVERNMENT RELATIONS/ADVOCACY
Facebook is hiring a remote or Lagos-based Public Policy Manager for Francophone Africa.
To submit a job opportunity to be featured here, email: afridigest@substack.com
---
Visual of the week
OLDIE BUT GOODIE

A visual from Social Capital's Chamath Palihapitiya highlighting how Amazon turned all of its major costs into sources of revenue. Full 2016 deck here.
---
🕵️‍♀️ In case you missed it
ESSAYS
Kelechi Udoagwu responded to Tizeti's investigation

"There was no process, transparency, clarity, structure, or independence in the activities that were jumbled into what is now being called an 'investigation by an independent special investigation committee' by Tizeti … But we can move on from that, and refocus on the more significant landscape #stopsexualharassment #protectourwomen"
NEWS & ANNOUNCEMENTS
REPORTS
---
🕵️‍♂️🐤 In case you missed it - Twitter edition
JUMP IN THE CONVERSATION ON TWITTER
TMS Ruge sheds light on some of the issues around mobile money in Uganda in this thread:
Stone Atwine starts an interesting discussion on whether or not the African fintech space is overcrowded in this thread:
Kevin Rooke highlights a key trend that some might be overlooking in this tweet:
Shreyas Doshi lists biases product teams must overcome in order to ship great products in this thread:
---
🗣️ A final word
WHAT I'M THINKING ABOUT
I didn't know Fahim particularly well, but his loss comes as a shock. Almost a year ago our teams had dinner to compare ride-hailing notes and I remember thinking how jovial he was. Condolences to his family, friends, and team — he'll be missed dearly.
---
LA FIN
Thanks for reading. Feel free to contact me at afridigest@substack.com, on Twitter @eajene, or on Whatsapp with any suggestions, ideas, or just to say hi 🙌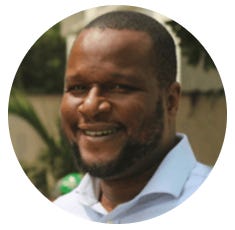 Oh, one more thing: how did you like today's digest?