Afridigest Week in Review: The continent's crypto companies continue to captivate
+Deals galore +How to generate startup ideas +How to build trust through tech the Chinese way +The Thought Circle's here :) +Bitcoin use cases in Africa +Cars45 got Autocheked +I go podcasting +More
The Afridigest Week in Review is a must-read weekly recap for Africa-focused founders, executives, and investors, as well as interested observers.



Welcome back! Let's get into it:





• Since Week 36, I published the first edition of the new Thought Circle format. Read it here:

"

Reasons B2C e-commerce hasn't yet scaled in African markets

.
" So far, folks seem almost as excited about it as I am, but that may be self-selection bias. You can help by
giving your quick
feedback on the Thought Circle format
🤗
If you're new, welcome 🙌 — you'll receive 2 weekly Afridigest emails: the weekly digest 
(every Monday, generally around 12 noon-ish Lagos time)
and either an original essay or the new Thought Circle format 
(on Saturdays at roughly 7pm-ish Lagos time)
. For past essays and digests, visit 
the archive
.
And subscribe if you haven't:

Week 37 2020
📰 Deal of the week
BONKERS FOR BITCOIN
South Africa's Luno, now headquartered in London, was acquired for an undisclosed amount by Digital Currency Group, the world's largest blockchain investor.
Luno will continue to operate independently and co-founders Marcus Swanepoel, Timothy Stranex, and Pieter Heyns will remain at the helm, becoming shareholders in DCG.
💡 Why it's the deal of the week: Any deal that makes the New York Times' DealBook is a strong contender for the deal of the week. Moreover, after Balaji Srinivasan's Week 34 investment in BuyCoins and Andreessen Horowitz's Week 35 investment in Yellow Card, this is the latest indication of increased investor interest in cryptocurrency on the continent. As discussed in weeks past, 2020 continues to be a banner year for cryptocurrency in Africa.
⛏️ Go deeper:
Co-Founder & CEO Marcus Swanepoel stated that Luno had received and rejected previous acquisition offers in recent years, but this time was different.

DCG shared Luno's vision "to upgrade the world to a better financial system" and, according to Swanepoel, it's the "only crypto company in the world that has managed to lay the right foundation for this."

Luno is now in the market for acquisitions.

"Luno is a high growth, global business and there is a massive opportunity to expand organically and through acquisitions…[DCG will now be] making a significant financial commitment to help Luno expand globally." — DCG Founder & CEO Barry Silbert
---
🔦 Other deals
BUSY WEEK FOR DEALS
OTHER DEALS
---
⚔️ Strategy Reads of the Week
IDEA GENERATION STRATEGY
Ali Afridi, an investor at Equal Ventures, compiles and classifies 20 different models for generating startup ideas, with examples and additional reading included.
"As we dig into different markets and industries to identify opportunities, there are several mental models I find myself referring back to for ideation. These models are not novel — many have been written about in business books and blog posts — however, my goal here is to compile and present these in a way that enables more systematic ideation."
🥇 "Systematic Ideation for Startups & Venture Theses - Part 1" by Ali Afridi (and Part 2)
-
NETWORK EFFECTS FLYWHEEL + PROPRIETARY TECH FLYWHEEL = ZOOM JUST WORKS
Former Amazon product manager Jake Singer explores Zoom from a flywheel and product perspective, including business model vulnerabilities and opportunities.
"Rather than pull a Facebook and either acquire or copy every nascent competitor, Zoom has an opportunity to create a robust developer ecosystem, allowing people to both build their own apps using Zoom's core technology, or even more interestingly to build on top of Zoom to make Zoom itself more compelling. Zoom has a major asset no startup can compete with—massive usage volume, each and every day."
🥇 "Zoom's Meteoric Rise" by Jake Singer
-
THE THOUGHT CIRCLE WEIGHS IN
For the first edition of the Afridigest Thought Circle, we asked a diverse set of experts why B2C e-commerce hasn't yet taken off at scale across African markets.
The responses largely focused on poverty/lack of disposable income leading to a small addressable market, weak digital access & low digital fluency, payment & logistics issues, and lack of trust.
There's also a sentiment that e-commerce at scale in the African context may ultimately look different from what's seen in the West or the East, particularly due to the popularity of informal e-commerce via Whatsapp, Facebook, etc. (Bonus: In case you missed it, here's a relevant article about Facebook commerce in Bangladesh).
"Poverty and trust are the [main] hindrances to the takeoff of e-commerce in Africa. We are poor and mainly buy things that are critical for survival. 75% of Africans live on a daily hustle and the other 25% don't trust the e-commerce platforms as they don't or can't yet meet customer service expectations like robust return policies, faster delivery, and discounts." — Obi Ozor
🥉 "Reasons B2C e-commerce hasn't yet scaled in African markets" featuring Firas Ahmad, Nivi Sharma, Obi Ozor, Ochije Nnani, Abas Idaresit, Steven Grin, Landry Djimpe, and Sola Lawal, PhD.
---
🌏 Asia Read of the Week
TRUST TECHNOLOGY
While China is a low-trust society, e-commerce has certainly scaled in the market. In this article, the first of an upcoming series, the author explores how distrust fuels China's $150 billion social commerce industry and how Chinese firms have adapted their business models and product features to build trust.
"This is where social commerce steps in, whether it's a Xiaohongshu review, Pinduoduo shared recommendation, or Douyin product video. At the uppermost layer of online marketing, a whole industry of influencers has emerged to provide consumers with a sliver of faith in online shopping. We call this 'trust technology.' Social commerce isn't just an extension of tech trust, it is the embodiment of it…Building a brand in China is not so much about communicating features as it is about building that trust and displaying social proof."
💡 "How Chinese Tech Builds Trust" by Tanya Van Gastel
---
📢 If you find this newsletter valuable, share it.
Afridigest is the industry newsletter for Africa's startup ecosystem. If you find it valuable, share it with founders, investors, executives, and others in your network who would benefit from receiving it.
---
🕵️‍♀️ In case you missed it
ESSAYS
NEWS & ANNOUNCEMENTS
PERSONNEL MOVES
Ringer One Africa Media (ROAM Africa) appointed Hilda Kragha as its new Managing Director of ROAM Africa Jobs. She was formerly CEO of Jobberman Nigeria and will now oversee the entire portfolio of ROAM brands including BrighterMonday (in Kenya, Tanzania, and Uganda) and Jobberman (in Nigeria and Ghana).
INTERVIEWS
PODCASTS
RESOURCES
VC firm Bessemer Venture Partners released a series of its original investment memos for LinkedIn, Shopify, Pinterest, and more
---
💼 Job Opportunities of the Week
GENERAL MANAGEMENT/COUNTRY LEADERSHIP
Glovo is hiring a Kampala-based Country Lead, Uganda
FINANCE LEADERSHIP
Aerobotics is hiring a Capetown-based Chief Financial Officer.
PRODUCT
uLesson is hiring a Nigeria-based Product Manager - Enterprise Products.
PRODUCT
Sankore Investments, the company behind wealth.ng and other products, is hiring a Lagos-based Head of Product.
PUBLIC POLICY
Facebook is hiring a Nigeria-based Head of Connectivity and Access Public Policy.
SOFTWARE ENGINEERING
Konga is hiring a Lagos-based Software Engineer.
-
To submit a job opportunity to be featured here, email: hello@afridigest.com
---
👁️‍🗨️ Visual of the Week
A REMINDER THAT AFRICAN MARKETS AREN'T MONOLITHIC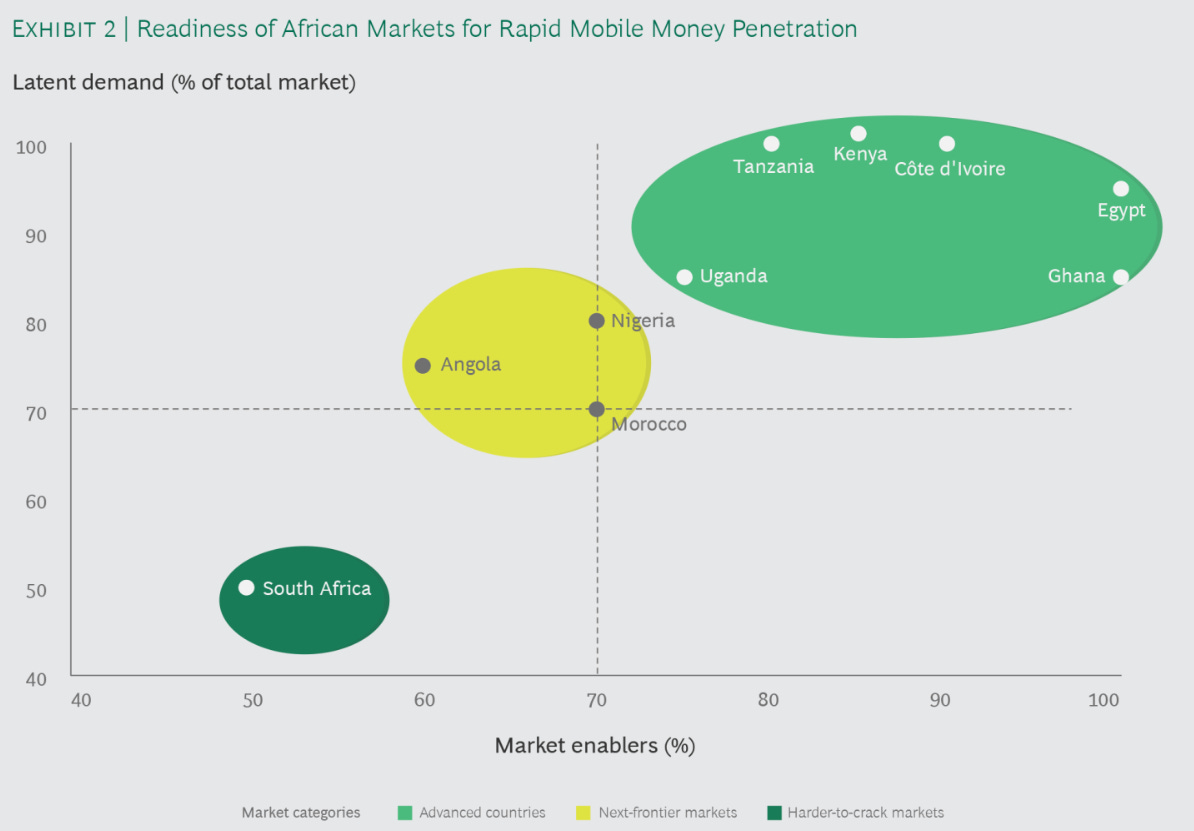 Consulting firm BCG recently published 'Five Strategies for Mobile-Payment Banking in Africa' with lots of interesting data including this chart of the best and worst African markets for rapid mobile money penetration.
---
🗣️ A final word
WHAT I'M THINKING ABOUT
I'm pretty excited about the launch of the Afridigest Thought Circle format. There's a lot of potential there, but also a lot of room to improve. Any feedback you have is more than welcome. 👂
And consider signing up to participate & occasionally sharing perspectives — it's designed not to be a huge commitment. I'll likely reach out again later this week (so excuse what will likely be an additional email from me this week).
---
LA FIN
Thanks for reading 🙌 (No tweets this week — let me know if you missed them 🤷‍♂️) Finally, what did you think of today's digest: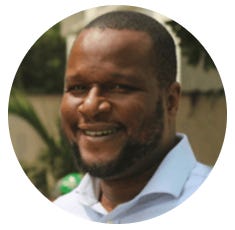 As usual, if you have any feedback or questions or just want to say hi, leave a comment or message me on Twitter @eajene or on Whatsapp. or send an email to hello@afridigest.com
And if you want to support this effort, feel free to place your pre-order of the upcoming titles at http://strategyforentrepreneurs.com